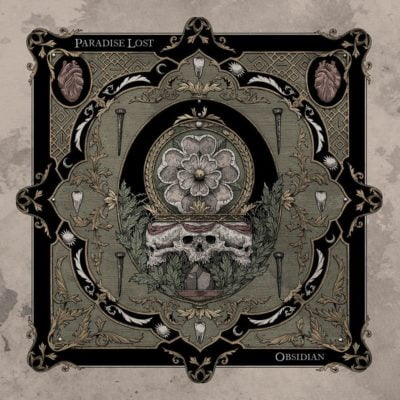 Since their 1988 formation in Halifax, Paradise Lost have consistently flown the flag for gothic metal and it's at the top of the pole for their sixteenth studio album Obsidian. Released on May 15th 2020 via Metal Blade Records, the masters of morose deliver nine songs whose titles reflect the mood.
An eerie spoken word intro with piano and strings forge into a grinding riff as a leisurely growled lead vocal from Nick Holmes oozes in and flows along like an evil mantra throughout album opener 'Darker Thoughts'. 'Fall From Grace' is a death metal monolith. Its pedestrian grooves barely move as a guttural vocal is offset by lighter musings. A rumbling bass and drum intro to 'Ghosts' heads off into a snare driven goth bludgeon and a full on cathartic outro.
A Godzilla stomp opening to 'The Devil Embraced' segues into clean vocal verses shrouded by a swathe of riffs but the choruses are delivered with a hellish glee and during the cataclysmic ending. Ethereal soundscapes surround the ghoulish epic 'Forsaken' and a thudding midsection sees a raging guitar solo escape from this cloak of doom.
There is nothing serene about 'Serenity' as they shift through the gears through this unholy headbanger, the heaviest track on the album and my favourite. 'Ending Days' is so suffocating, you may have to open a window due to the gamut of emotions that are poured out over apocalyptic riffing and a bleak guitar solo adds to the mood swings. The vocal to 'Hope Dies Young' is delivered solemnly as if it were a funeral eulogy backed by a musical morass.
This self produced album ends with 'Ravenghast', a five minute exorcism of what has gone before it. It's a behemoth of a way to bring it to an astonishing close. Long may Paradise Lost reign!
Obsidian album track listing :-
Darker Thoughts.
Fall From Grace.
Ghosts.
The Devil Embraced.
Forsaken.
Serenity.
Ending Days.
Hope Dies Young.
Ravenghast.
Paradise Lost band line up :-
Nick Holmes – Lead vocals.
Waltteri Vayrynen – Drums.
Stephen Edmondson – Bass guitar.
Gregor Mackintosh – Guitar/vocals.
Aaron Aedy – Guitar.
Paradise Lost stay on the right path with Obsidian.