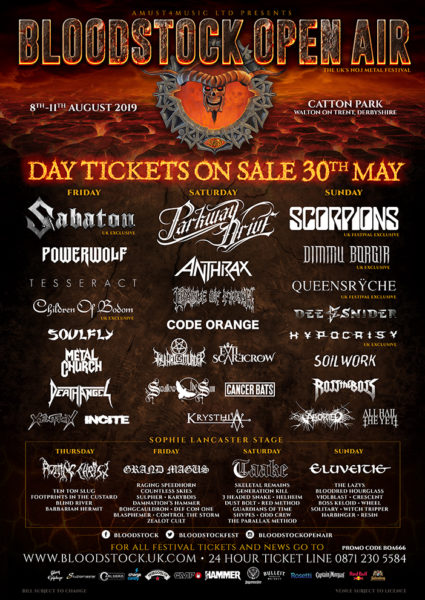 There's just 8 weeks until BLOODSTOCK's metal weekender gets underway and BLOODSTOCK HQ have now locked in some of the bands for 2019's Jagermeister Stage.
Belfast's SKYPILOT bring their heavy riffs and groove to Catton Park's Jager stage on Friday, joined by Leicester grunge/hard rock outfit, GRAVES and blues metal squad, BEGGAR.  On Saturday, we welcome Irish heavy groove trio, BLACK SHUCK and one man death metal outfit FOUL BODY AUTOPSY.  Then Sunday's bill features Irish/Australian hard rockers, JAILBIRDS and you-can-work-it-out-from-their-name, WOMENOWAR!  A second batch of Jagermeister Stage bands will be announced next month!
BLOODSTOCK is also pleased to announce the second wave of New Blood winners from their 'Metal 2 The Masses' finals, who all bag a spot to perform on the Hobgoblin New Blood stage.  The finals are still taking place around the country, so get down to your local event and support grass roots music and help shape BLOODSTOCK's line-up!
Landing a Friday New Blood Stage slot are Burnley's winners, the Southern/doom metal squad, GRAND ELDER, Bournemouth's black/death metal victors ANAKIM, and thrash/prog groovesters BLIND DIVIDE who triumphed in Cardiff's final.  Saturday's lineup welcomes Wrexham's top dogs, SCARS OF REMEMBRANCE.  Joining Sunday's New Blood fun are ELYREAN, the melo/tech thrashers who won in Wolverhampton, Hitchin melodeath victors FEAR BOUND, and instrumental tri-guitar Stoke champions, LOST IN LAVENDER TOWN.
Pick up weekend tickets for £145 (+ fees) and children's weekend tickets at just £35 (+ fees) over at the BLOODSTOCK store.  VIP tickets, including Podpads, Bellepads and Octopads, plus VIP upgrades (for those who've already purchased a standard ticket) will sell out shortly, so grab yours ASAP.  Luxpads are already SOLD OUT! For full VIP details click here.  A limited amount of day tickets are also available, priced at £65 (+ fees) for adults and £20 (+ fees) for children aged 4-11. Children under 4 go free!
Planning your travel to BLOODSTOCK yet?  Need a lift or driving there and wanna earn some cash for your empty seats?  BLOODSTOCK have teamed up with GOCARSHARE again so you can help a fellow metalhead rock out and reduce your carbon footprint at the same time.  Register where you're travelling to/from, or your route, and then wait for drivers/passengers to get in touch!  GOCARSHARE is integrated with Facebook, so you can check out your possible travel buddies and they encourage travellers to post feedback.   You'll also be in with a chance of winning a pair of tickets to next year's festival just by using the GOCARSHARE scheme!  Full details available here.  For other travel options, including info on BIG GREEN COACH's multiple pick-up locations around the country, plus trains, planes, taxis, and shuttles, visit: https://www.bloodstock.uk.com/pages/travel-info.
Friday night's headliner SABATON, Saturday's top dogs PARKWAY DRIVE and Sunday's bill toppers SCORPIONS, join ANTHRAX, DIMMU BORGIR, CHILDREN OF BODOM, CODE ORANGE, CANCER BATS, POWERWOLF, SOILWORK, CRADLE OF FILTH, THY ART IS MURDER, TESSERACT, METAL CHURCH, SOULFLY, DEATH ANGEL, DEE SNIDER, QUEENSRYCHE, ELUVEITIE, SWALLOW THE SUN, EVIL SCARECROW, ROSS THE BOSS, GRAND MAGUS, KRYSTHLA, ROTTING CHRIST, ABORTED, SKELETAL REMAINS, ALL HAIL THE YETI, INCITE, HYPOCRISY, TAAKE, THE LAZYS, XENTRIX, and many more on the Catton Park stages this August.  More bands are still being announced, but see the line-up so far here.
BLOODSTOCK will take place at Catton Park, Derbyshire on 8th-11th August 2019.  Get additional information over at www.bloodstock.uk.com.