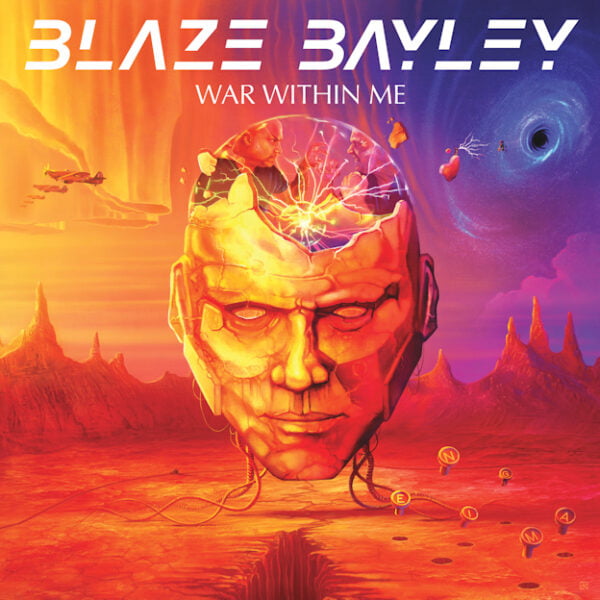 If I had only one word to sum up Blaze Bayley, it would be PASSION! I've been a fan for many years, from early Wolfsbane gigs, the two albums he recorded with Iron Maiden (both of which fare better than some of the Bruce recordings) up until his solo career and eleventh album War Within Me, recently released by Blaze Bayley Recording. He describes it as not a concept album but a very positive one but to my ears these are not just ten songs but ten short stories.
Born Bayley Alexander Cooke on 29/05/1963, it was recorded in 2020 at his West Midland home and Chris Appletons studio in Manchester with his consistent line up of the Absolva band featuring Chris on guitar, Martin McNee on drums and Karl Schramm on bass guitar.
This monster of an album opens with the title track that races out of the starting blocks on headbanging inducing speed metal tempos that show Blaze still has that fire within him. Snare drums snap at you and incendiary riffing adds verve to Blaze's chest beating delivery of powerful, straight from the heart lyrics.
'303' tells a tale from 29th August 1940 during World War II of an aerial dogfight involving the RAF. It's all tally ho bravado driven seismic kick drums, dense riffing as earworm guitar lines in the vehement choruses raise the heavy metal bar even higher!
The acoustic intro to 'Warrior' leaves space for a spine tingling opening vocal of "I can see the death of reason on the other side of fear. All their hatred has devoured every good thing that was here. Could I be a warrior, a warrior? I'm broken, alone left for dead, can I be a warrior with courage to rise up again?" It's potent melodic power metal with guitar overload at its fretboard burning best.
'Pull Yourself Up' is a majestic slow burner that delivers on all levels. NWOBHM tinged verses muscle up when huge grinding riffs arrive in the choruses.
More headbanging ensues from the full on metal assault that is 'Witches Night'. Riffs writhe and churn over a powerhouse lead vocal. A pounding midsection and gently spoken word piece stand aside to herald more guitar histrionics from Chris.
'18 Flights' tell a tale of "Eighteen flights and fifteen shows, six countries away we go. Could not guess, we could not know an earthquake comes to Coquimbo, stop the show". This scary occurrence happened to the band. Melodies are sumptuous throughout, as are the raging guitar solos.
The next three songs are tributes to three historical figures. 'The Dream Of Alan Turing' sees Blaze encapsulate the achievements of the man who cracked the Enigma code, a machine used by German armed forces in World War II. Musically, guitar lines shimmer and are pinned down by powerful bass guitar lines. Blaze tells "Alan Turing dreams of thinking machines. They must deceive to be believed, survive the lies humanity agreed. They are born".
'The Power Of Nikola Tesla' tells of the Serbian-American who harnessed the power of electricity to design the modern alternating current (AC) electricity supply. Befitting this source of power, the song lights up the sky with incandescent energy.
The best of the three come from 'The Unstoppable Stephen Hawking', the World famous theoretical physicist. It starts with touches of 'Fear Of The Dark' as this six minute epic enthralls with gripping lyrics that include " Unstoppable, don't believe what they tell you, they don't know anything. You have strength within and they don't want you to find it. You can decide how you live!".
Blaze's most personal lyrics come from closing album track 'Every Storm Ends'. It's a power ballad that grabs you from the off until the beautiful "Whoa oh ohs" sees this enchanting song end poignantly.
Band and purchase links are here :- http://www.blazebayley.net ………https://www.blazebayley.co.uk ………https://www.facebook.com/officialblazebayley
War Within Me album track listing :-
War Within Me.
303.
Warrior.
Pull Yourself Up.
Witches Night.
18 Flights.
The Dream Of Alan Turing.
The Power Of Nikola Tesla.
The Unstoppable Stephen Hawking.
Every Storm Ends.
Album personnel :-
Blaze Bayley – Lead Vocals.
Chris Appleton – Guitar/Backing Vocals.
Martin McNee – Drums.
Karl Schramm – Bass Guitar.
Blaze Bayley, the songwriting machine keeps on delivering.