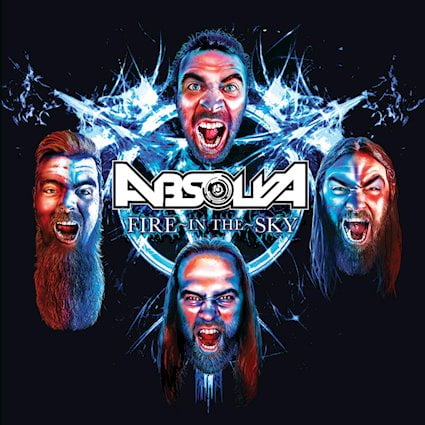 Do you need your heavy metal fix solved? Then look no further as Manchester based Absolva will solve it with their latest studio album Fire In The Sky, due to be released via Rocksector Records on Feb. 18th 2022. Luke Appleton has returned to the band to make for a tantalizing twin guitar line up, point proven by opening track 'Demon Tormentor' as he and brother Chris Appleton blaze away on an adrenaline rush intro to then career into a snare drum driven headbanger. Lyrics are delivered by Chris with a snarl over a riff laden tumult and air guitars are mandatory for the duelling dual solos.
Right from the off, twin guitars enchant throughout 'Burn Inside' as a hypnotic chug backs Chris' high pitched vocals and a slamming midsection comes from Celtic tinged guitar harmonies.
'Addiction' lives up to its title by being utterly addictive. Grooves are hard rock at its finest, peppered by incendiary guitar solos and a soul searching vocal.
'What Does God Know?' is a song of two halves. First half is an ethereal ballad of personal lyrics until it kicks into gear for frantic metal mayhem.
The ground must surely shake from the punishing grooves of bass guitar bombast for 'Stand Your Ground', bass bombast and a myriad of guitar solos.
'Fire In The Sky', first single taken from the album is a wise choice to whet the appetite for the album release date. Main riff is cranked up to the max to make for the heaviest song here and speeds up to sound like a swarm of angry bees. The icing on the cake comes from some chest beating "Whoa -oh-oh's" and a fretboard burning outro.
'Man For All Seasons' begins as melodic rock then pushed into heavy metal territory from superhuman riffing and bass guitar bludgeon.
'Galloglaigh' tells the tale of elite Irish mercenaries who fought between the 13th and 16th centuries called Gallowglasses which is reflected by some traditional music from twin lead guitar harmonies and battle cries.
'Historic Year' has an attention grabbing baroque like intro backed by Chris' chilling vocal until it's let loose for an heraldic heavy metal meltdown from a whirlwind whipped up by a band truly on fire!
The album ends stongly on 'Refuse To Die' as a stabbing main riff accelerates for a full on take no prisoners delivery.
Album pre-purchase link and other band info are here :- http://www.absolva.bigcartel.com I https://www.facebook.com/absolva I https://www.youtube.com/channel/UCh_9bFT1nVjH4s8T4g6T–A I
Fire In The Sky album track listing :-
Demon Tormentor.
Burn Inside.
Addiction.
What Does God Know?
Stand Your Ground.
Fire In The Sky.
Man For All Seasons.
Galloglaigh.
Historic Year.
Refuse To Die.
Absolva band line up :-
Chris Appleton – Lead Vocals/Lead Guitar.
Luke Appleton – Guitar.
Martin McNee – Drums.
Karl Schramm – Bass Guitar.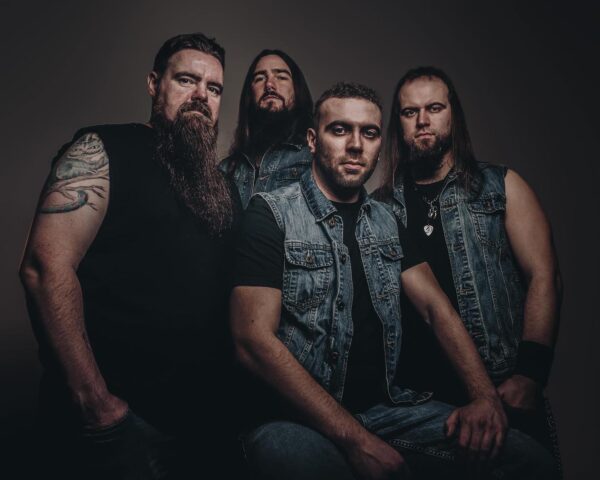 The album will be available on CD, all digital formats and vinyl will be available in July/August.
2022 looks bright for Absolva as they release their new studio album Fire In The Sky.