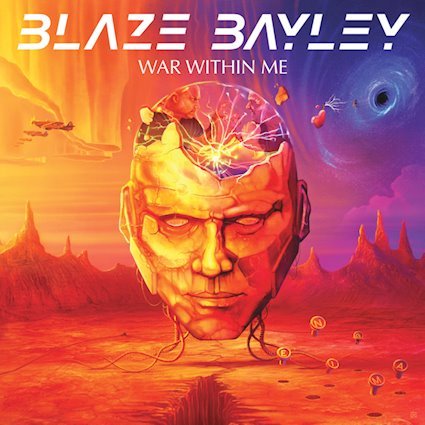 I've been a fan of Blaze Bayley since he sang for Wolfsbane in 1984 -1994 and subsequently when he joined Iron Maiden from 1994 – 1999, releasing two fantastic albums X Factor and Virtual XI with them, then up until the present day he has embarked on a successful solo career releasing seven albums, the latest being War Within Me released in April 2021 and has made a lyric video for the title track to celebrate being back on the road touring once more.
In typically Blaze fashion it grabs you from the off as a scything main riff from Chris Appleton sets the scene for a full blooded heavy metal turbocharger, pinned down by the apocalyptic rhythm section of from Martin McNee on drums and Karl Schramm on bass guitar, all rounded off by a fist clenching lead vocal delivered with 100% conviction from Blaze.
From the stage at the Eleven Club in Stoke yesterday he introduced the song as his struggle with depression, point proven by the personal choruses of "Never give up, I won't back down, get stronger, be harder, be tougher, be proud. Never give up, war, with myself, crush doubt and fear and answer the question, who am I?" to a packed out venue. Not bad for an afternoon gig!
Another reason to celebrate is his recent induction into the metal hall of fame with Blaze proclaiming "This is wonderful for me to be inducted into the same Hall Of Fame as Ronnie James Dio, my inspiration. Thank you very much indeed!".
His 2021 tour is already well underway and a European 2022 is already planned with dates already confirmed. This guy never stops working!
Band links can be found here :- http://www.blazebayley.net I https://www.facebook.com/officialblazebayley I https://blazebayley.godaddysites.com/?fbclid=IwAR2ZwZiHmc9JUiSr3OnZe0TDQcop54Nm3o8evI5snQyqouMk6sP3S5l7J1w I http://www.blazebayley.net/?fbclid=IwAR3n1h5rH8nlETOlgO0IrYwxjLe_vqI6KtWX6oHXWVvCVmDfrjfIq-kQplw I https://www.youtube.com/c/blazebayley I http://www.absolva.com
Blaze Bayley locks and loads for war with his latest lyric video 'War Within Me'.