Manchester-based melodic metal / hard rock band Absolva confirm their headline shows for 2023, in the wake of the recent heart attack of former Iron Maiden singer Blaze Bayley. The four musicians normally double-up as Blaze's backing band and had been due to tour again with him this year until he suffered a massive heart attack at the end of April, effectively wiping out their 2023 diary.
Absolva frontman Christopher Appleton explains… "We couldn't believe our ears when we got the call to say Blaze was in the hospital with a heart attack. It was just two days before we were due to begin the European leg of the Blaze Bayley 'Unstoppable' tour. The priority was of course Blaze's health and I'm very happy he's since undergone successful quadruple bypass surgery, now going through several months in recovery."
Absolva's plans for the year were thereby thrown into chaos and they've assembled a headline tour from the remnants of the original Blaze shows. Christopher continues… "Absolva and Blaze Bayley operate as independently as possible, and myself, brother Luke, and the team at the family-owned Rocksector Records take care of business, with myself working particularly as a booking agent. So, in extreme circumstances I needed to roll my sleeves up, hitting the phone and email to get booking Absolva headline shows. Not easy as of course many venues were already fully booked well in advance."
Eventually, plans have come together and a schedule for UK and Europe has been assembled. "It's not perfect" adds Christopher's brother Luke (formerly of American metalheads Iced Earth) "but although some areas will have to wait until 2024, we now have a schedule for 2023 which covers a fair section of what we wanted and of course, it will be a huge relief to get out there and play."
Absolva formed in 2012, from the ashes of Fury UK, has released six studio albums and two live, forging an enviable reputation as one of the hardest-working bands around. They are perhaps best known for the impact of their live performances, connecting with the hard rockers who appreciate the melody whilst equally keeping faith with the metalheads. The band has toured extensively, including its home territory UK, Europe and South America, whilst also impressing at festivals such as Planet Rockstock, Stonedead, Bloodstock, WinterStorm, Hammerfest and Burrfest in the UK, plus Headbangers Open Air (Germany), Rock The Coast (Spain), Metal Magic (Denmark), Chania Rock (Crete), Dark River Festival (Finland), Blast From The Past (Belgium) and more.
In addition, the lay-off from Blaze Bayley shows will also present the opportunity to work on some new music and we should expect a new single later in the year and writing for a seventh album has also begun.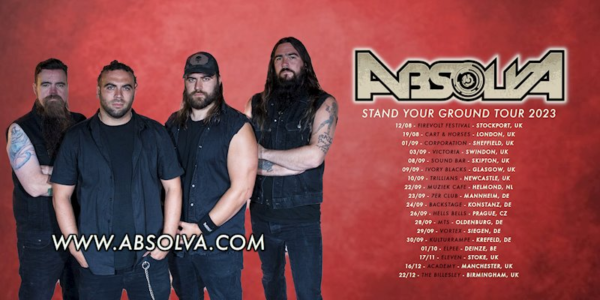 Live shows…
12/8 UK, Stockport, Firevolt Festival
19/8 UK, London, Cart & Horses
1/9 UK, Sheffield, Corporation
3/9 UK, Swindon, Victoria
8/9 UK, Skipton, Sound Bar
9/9 UK, Glasgow, Ivory Blacks
10/9 UK Newcastle, Trillians
22/9 NL, Geleen, Café De Meister
23/9 DE, Mannheim, 7-er Club
24/9 DE, Konstanz, Backstage Club
26/9 CZ, Prague, Hells Club
28/9 DE, Oldenburg, MTS
29/9 DE, Siegen, Vortex
30/9 DE, Krefeld, Kulturrampe
1/10 BE, Deinze, Café Elpee
4/11 UK, Oxford, Rabidfest
17/11 UK, Stoke, Eleven (opening for Demon)
16/12 UK, Manchester, Academy 3
Further info available at www.absolva.com