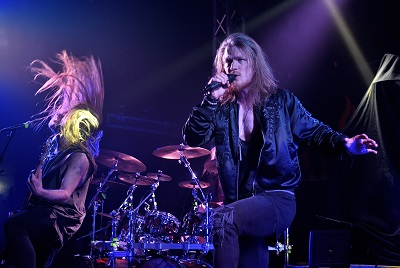 On previous headline shows, Battle Beast have either played the Underworld, or Borderline, so tonight's show at the Dome is a definite step up. For the band it's got a much better stage and lighting, and it's a good venue for fans as it's got plenty of space and everyone gets a decent view. There's a long queue outside even after doors opened as fans slowly filed into the venue – this has to be the biggest crowd I've seen for a Battle Beast gig in the UK.
First up were Arion. I must admit that prior to tonight I'd never heard of them but judging by how well they went down from the start of their set, I'm guessing they'd got quite a few fans in the venue. They turn out to be a power metal band from Finland, and a pretty good one at that. The first song got a good reception from the crowd, but as the set went on they really did have most of the crowd enjoying it – there were lots of arms in the air and lots of applause between songs. An excellent start to the night.
Next came Battle Beast with their distinctive Power metal meets Abba sound. It's a distinctive sound and one that at times is more pop or disco than power metal but it's a very catchy fun sound that really is enjoyable to listen to. Noora Louhimo isn't just a great vocalist, she's also a great frontwoman and makes sure the crowd aregetting involved throughout the show.
With their latest album, "No more Hollywood endings" not having been out for long then they're obviously keen to showcase it and after kicking off with a song from the album ("Unbroken") we get seven more songs from the new album in the main part of the set plus the title track in the encore. Among the new songs we also get five from the previous album, "Bringer of pain" and just two songs from "Battle beast" with nothing played from either the debut album (Steel) or "Unholy Savior" – a shame as I do love that first album.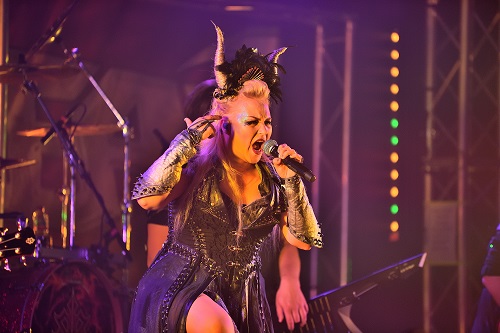 It's a great set – so much energy and it's just great fun music to listen to that the time just flies past and all too soon it's the end of the night. Battle Beast are back later in the year doign a UK tour and with the London venue being smaller than the Dome I can see it selling out.
Setlist:
Unbroken
Familiar Hell
Straight to the Heart
Unfairy Tales
Black Ninja
Endless Summer
I Wish
Raise Your Fists
The Golden Horde
Out of Control
Bastard Son of Odin
The Hero
Eden
Encore:
No More Hollywood Endings
King for a Day
Beyond the Burning Skies
Thanks to Adrian Hextall for the photos.