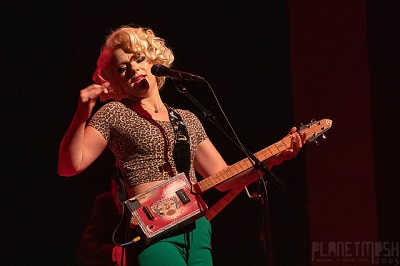 The last time Samantha Fish played Milton Keynes it was two years ago and it was a great night. People clearly remembered how good she is as tonight's show is sold out.
By the time the support act, Curse of Lono were due on, the place was completely full – it's one of the bits I love about gigs at the Stables, the fact that people turn up to see the support acts whereas at many venues the place is half empty for the support and only fills up in time for the headliner.
Curse of Lono are a five piece alternative rock band from London, so quite different musically to Samantha Fish. I'd expected something more blues or blues-rock so an alternative rock band were a bit surprising but that's ok and first impressions were good, so once I'd taken enough photos I sat down to listen properly. They've got a good visual image and come across very well. Musically they're not my taste but that doesnt mean they arent good – they're definitely a very good band with some great songs, and they certainly went down well with a large portion of the audience and after their set I saw a number of people coming back in carrying one of their albums after visiting the merch stand, so they look to have deservedly made some new fans tonight.
Next it was time for Samantha Fish. She's got a new album due out in August (Kill Or Be Kind), so I was hoping we'd get some new material tonight, but with two very different albums released in 2017 then I wasn't sure what to expect from her set. Well early on she said she'd be playing some songs from "Chills & fever". We also got several songs from "Belle of the west", and we got new material plus some older songs – a great mix really.
The set kicked off with "Bulletproof", played on a cigarbox guitar. It's a song from the new album and it sounds fantastic. Of the 2017 albums, "Chills & fever" is a much harder and heavier album than "Belle of the West" and by playing material from both Samantha Fish is able to vary the pace of things, playing a few of the faster, louder songs then bringing the pace down a bit with a slower song such as "Blood in the water" which tonight was quite heavily reworked from the album version, then the pace goes back up. It's extremely well done and helps keep the audience fully engaged. She's never been afraid to cross genre boundaries as is clear from the more country sounding songs on "Belle of the west", and tonight she introduces one song saying "The start of this sounds like heavy metal..because it is"
Before they started "Don't say you love me" there was a pause while her dummer attempted to fix a problem with his kit. Once it was clear it would take a while Samantha Fish improvised and played a solo acoustic blues song while the rest of the band either took a break or fixed the problem before coming back on to play the next song.
Samantha Fish is a fantastic guitar player, and does some excellent slide guitar playing tonight. She's also a very good singer, and is able to move effortlessly between the slow numbers and the more lively ones. Some of the songs felt like she and the band were jamming and playing it how they felt like doing them that night, rather than them just going through the motions and doing things the same each night.
A fantastic gig, and after hearing some new songs tonight I'm really looking forward to the new album.