I had the ultimate pleasure of watching, photographing, meeting and interviewing one of Nottingham's finest at Hammerfest in March. Their set was full of Black Doom, galloping beats and low lighting. The three combined set the perfect aura for their set.
I've been keen to review a studio recording of Master Charger's since Hammerfest, and what better album to review than last year's 'Eroding Empires'.  I'll be honest, album opener 'Damn Me Forever' hit me with a slap of confusion, right across the face. This can't be the same band I saw at Hammerfest can it? They're not heavy enough!!! But they are, and there seems to be a maturity here that never came across live. Don't get me wrong I'm not dissing this for one second, I just think that the band's sheer power live masked parts of what I'm hearing. For an opening track it's very interesting. Shades of Sabbath, as to be expected, and as it chugs along, I must admit I'll have to retract my 'They're not heavy enough'  statement. It's heavy, absolutely, but in a not-so-heavy way, if you get my drift? Let's move quickly on.
'Dwell in The Doom's  opening riff is gold and a sure floor filler. John James' voice here is key. Rough, grouchy, moody, but also melodic in this tracks' chorus. There's a great tempo to this one, with a lovely base riff. 'Turn The Tides'  is where we start getting into the nitty-gritty. Lazy Metal at it's best. The Sabbath style opening riff is as idle as you could wish for yet so effective. This is what I like about Master Charger. They amble along at a lovely, snail pace. Tinkering Toms in the background from Jon Kirk adding to the occasion. Finish it off with a great solo from John and bang. A cracker.
'Derailed'  edges more towards rock than metal for me. Another great track. Master Charger's style and formula are becoming evident as this album rolls on. There's nothing better I find than a song that starts with a random riff, stops, and goes into another. That's 'Blessed Be'.  A six and a half minute galloping, chugger of a track.
Production-wise, it's unpolished. I love this. It gives you that 'live'  feeling. Every album should be recorded like this. 'In Hells Grip'  gives us that live feel. Raw, filthy, heavy and a staggering eight and a half minutes long. This track allows Master Charger to demonstrate their ability to shift from the Doom, and demonstrate their diversity with a superbly constructed and beautiful mid section. Stunningly perfect.
'Death Trails'   is just pure Sabbath class. Tuned down guitars, lazy yet productive riffs. In fact each of the remaining tracks on offer here follow the band's perfect formula. 'Wither',  'Break Of Dawn',  and 'Where I Belong'  close a brilliant album from the Nottingham Doomsters. This album should be heard. Go buy it and even better, go check them out live.
You can watch my interview with the guys at Hammerfest HERE.
Track Listing:
1 – Damn Me Forever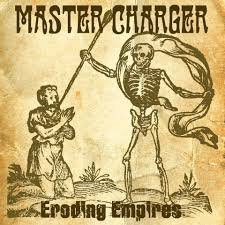 2 – Dwell In The Doom
3 – Turn The Tides
4 – Derailed
5 – Blessed Be
6 – In Hells Grip
7 – Death Trails (To The Black Divine)
8 – Wither
9 – Break Of Dawn
10 – Where I Belong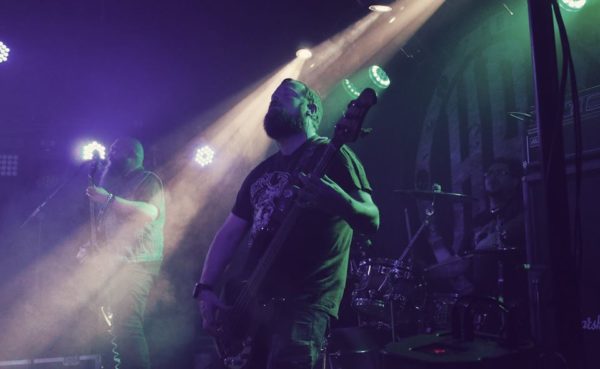 Links:
Release date: 23/08/18 Length: 61mins. Brilliant dark, Doom Metal. Watch out for these on the road.