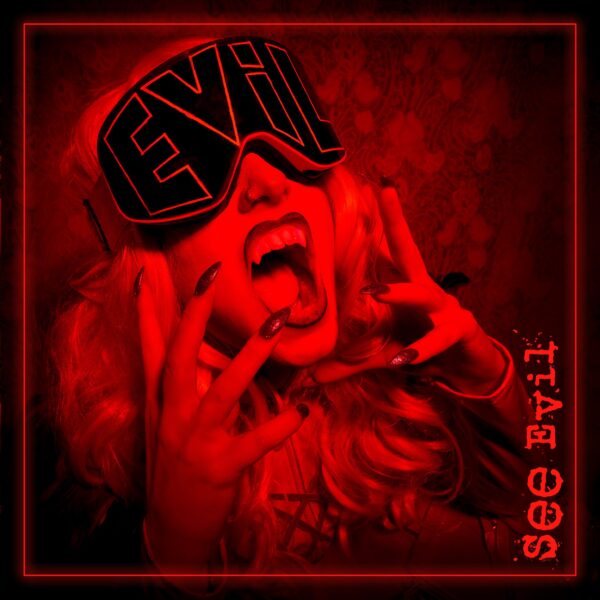 Strangely enough, Stoke metallers Bang Bang Firecracker played at the last gig I went to before the first lockdown in March 2020 when they opened up for Syteria. They took to the stage and really kicked out the jams and they've lost none of that fire as they've just released 'See Evil (EP1)', so called as there are 3 in total to make up their second studio album See Evil, Hear Evil, Speak Evil.
They will be released in stages and judging by the quality here I can't wait to hear the next one! It opens with the seven minute sprawling epic 'Unleash The Devil' and what a start as this lumbering monster starts in first gear and stays there. It's a brave move that pays off as sparse but heavy riffs are pinned down by clinical drumming. It rolls along on a 'Seasons In The Abyss' groove until a brief moment of fire comes from a midway fretboard burning guitar solo.
A bonafide headbanger comes from 'G.F.Y'. Get those neck muscles ready especially in the gang like delivery of "G.F.Y, go f**k yourself" choruses. The riffs churn and chew at your ears to make their presence known and a lightspeed guitar solo raises the metal bar higher.
Final track 'Chase The Wasted' pulls no punches as it rages hard on knockout punch riffing that heavies up for the full on fiery choruses and a devastating drum battery outro.
Band links are here :- https://www.facebook.com/Bangbangfirecracker I https://bangbangfirecracker.bandcamp.com/
See Evil (EP1) track listing :-
Unleash The Devil.
G.F.Y.
Chase The Wasted.
Bang Bang Firecracker band line up :-
Kieron 'K' Berry- Lead Vocals/Lead Guitar.
Markus Wrench – Bass Guitar/Backing Vocals.
Bob Ansell – Drums.
Light the fuse and see this firecracker explode into three rocket fuelled songs from Bang Bang Firecracker!