Black Aces 'Fear No Beer' As They Return to the UK
'Aussie hard rockers Black Aces are headed back to the UK for their 'FEAR NO BEER TOUR'.
Hailing from Bendigo in regional Victoria- a town with more pubs than post boxes- Black Aces are set to bring their no frills brand of classic Aussie rock'n'roll halfway round the globe, and cannot wait to sample every bitter, stout, porter and ale from every keg, can and cask they can find.
Having spent much of the past 18 months locked away in the shed, writing and rehearsing, the band dropped new EP 'Never Change' in late 2019, once again working with the legendary Mark Opitz (Rose Tattoo, Kiss, Cold Chisel) and Colin Wynne (Bad//Dreems).
As such, this is their first tour of the UK in nearly 2 years- last trip saw Black Aces stomp all over the UK in support of legends The Quireboys.
Now striking out on their own headline run, Black Aces will be joined on the 'FEAR NO BEER TOUR' by Cumbria's finest southern rock purveyors Thirteen Stars, who will be supporting the release of their brand-new album 'Finest Ramshackle Jam'.
Along with hard hitting club dates, the 'FEAR NO BEER TOUR' will also see Black Aces play at Scotland's Wildfire festival, and Manchester's SOS Festival for the first time. In true 'why the f*ck not?' Black Aces fashion, they also saw fit to squeeze in a quick sojourn across the channel to take on Germany's Datscha Open Air festival in the heart of the Black Forrest, and a quick show in Geleen, Netherlands to boot.
Black Aces UK club shows will also feature a smattering of the UK's finest up and coming New Wave of Classic Rock bands, with Ryder's Creed, EMPYRE, These Wicked Rivers, Blitz, Cottonmouth all appearing along the way.
There's sure to be a taste on tap for everyone when Black Aces come to your town, these lads from Oz truly do 'Fear No Beer'!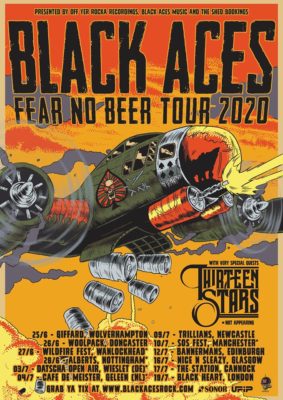 FEAR NO BEER TOUR DATES
Thursday 25th June
Giffard Arms, WOLVERHAMPTON
http://www.thegiffardarms.co.uk/
w Thirteen Stars, EMPYRE & more
Friday 26th June
Woolpack Live, DONCASTER
https://www.facebook.com/WoolpackLive
w Thirteen Stars & more
Saturday 27th June
Wildfire Festival, WANLOCKHEAD
http://www.wildfirefestival.co.uk/
w Thirteen Stars, Fireroad, Trucker Diablo & more
Sunday 28th June
Albert's, NOTTINGHAM
w BlitZ, The Addiction & Cottonmouth
Friday 3rd July
Datscha Open Air, WIESLET (DE)
http://www.datscha-rockhouse.de/
w Dreadful, Dislike Silence & more
Saturday 4th July
Café De Meister, GELEEN (NL)
w Sulfeet
Thursday 9th July
Trillian's, NEWCASTLE
https://trilliansnewcastle.co.uk/
w Thirteen Stars
Friday 10th July
SOS Festival, MANCHESTER
w Kim Jennet, PISTON, Hands Off Gretel & more
Sunday 12th July
Bannerman's, EDINBURGH
https://www.bannermanslive.co.uk/
w Thirteen Stars & more
Thursday 16th July
Nice N' Sleazy, GLASGOW
w Thirteen Stars & more
Friday 17th July
The Station, CANNOCK
https://www.facebook.com/thestationlive/
w Thirteen Stars, Ryders Creed & These Wicked Rivers
Sunday 19th July
The Black Heart, LONDON
w Thirteen Stars & more
Who are Black Aces?
Aussie hard rockers from rural Victoria
Formed in rural Australian town Bendigo by singer-guitarist Tyler Kinder, Black Aces set about forming a set of songs influenced by the greats of Aussie rock.
The 2020 summer will see the band return to the UK for their FEAR NO BEER TOUR, with appearances at Scotland's Wildfire Festival and Manchester's SOS Festival, plus a string of club shows.
This will be Black Aces first overseas tour since their head turning, white knuckle 3 UK tours in 18 months throughout 2017/18- most recently stepping up to the plate as special guests on rock legend's The Quireboys White Trash Blues 2018 UK Tour.
Black Aces returned to the studio in early 2019, once again with producers Mark Optiz (AC/DC, INXS, Cold Chisel, Kiss) and Colin Wynne (Bad//Dreems), to record their brand new EP 'Never Change'. Released on 31st October 2019, the EP is a selection of songs written whilst recovering from their extensive touring schedule to this point, both in Australia and abroad. With album number three slated for a 2020 release, the lads from Bendigo have no plans to slow down, and are proud of their humble garage beginnings.
After developing a strong live following across their homeland and sharing stages with the likes of Cosmic Psychos, Angry Anderson, Dallas Crane, and The Casanovas, Black Aces released their debut album 'Shot In The Dark' in early 2016 and took their live show all the way to Europe and the UK.
Through sheer hard work the album broke into the top 20 of the iTunes Australia rock charts, and the band ended a bumper year with a show stealing performance at Hard Rock Hell festival in Wales, alongside such heavyweights as Molly Hatchet, Living Color and Ratt- earning themselves a call back to the festival's main stage alongside the legendary Dee Snider in 2017.
Black Aces second album 'Anywhere But Here' was released in late 2017. Written in a Bendigo garage, and recorded with legendary Aussie producer Mark Opitz and Colin Wynne, 'Anywhere But Here' delivered on the promise of their debut- a diverse, driving rock record by a band determined to show the world how they play rock n' roll.
Keep your eyes peeled, more 2020 Australian, UK and European dates are planned across the year.
Black Aces are:
Tyler Kinder – Lead Vocals / Lead Guitar
Jarrad Morrice – Rhythm Guitar
Alex McMillan – Bass
Pete McMillan – Drums
Connect with Black Aces:
Listen to Black Aces: