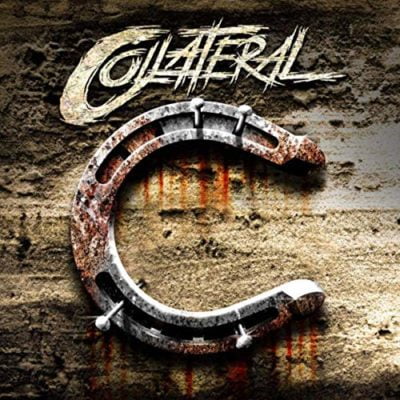 Kent based quartet Collateral came to be in late November 2016. A well received EP '4 Shots!' paved the way for two singles, 'Lullaby' and most recently 'Merry Go Round', both of which feature on their stunning self titled debut album, recently released by Roulette Media Records. They have been gaining rave reviews on their live performances so have they been able to capture that vibe in the studio?
To these old ears, after the first play of it I was left in the same frame of mind as when I heard the debut albums by Boston and Van Halen! Yeah, it really is that good! The album kicks off with all guns blazing as big guitar riffing from Todd Winger and seismic bass guitar runs from Jack Bentley-Smith propel 'Mr Big Shot' along. Choruses arrive early and what choruses as the golden tones of Angelo Tristan, backed by big band vocals see them set a heavy AOR vibe early. The bar is set even higher by the grinding opening riff for 'Promiseland' as earworm tapping guitar lines and heartbeat drums from Ben Atkinson. A gnarly lead vocal heads off towards headbanging grooves and a fiery guitar solo.
Latest single 'Merry Go Round' has a grungy main riff and sugar sweet choruses that you won't be able to stop singing. Hard hitting dynamics make it an early album highlight. The feel good harmonies in 'In It For Love' seem to make summer arrive six months early. It's power pop at its finest as it muscles up to a bombastic outro. 'Lullaby' belies it's title as it stomps along on a speaker rattling drum pound. The riffs keep the needle in the red and some mighty band "Whoa oh oh's" are bound to make it a sure fire crowd pleaser. 'Midnight Queen' has rock radio airplay flowing through its veins. It breezes along on an almost whispered vocal as guitar lines ebb and flow throughout. 'Get Back To You', the longest track here at just over the five minute mark does not outstay its welcome. This laid back, sultry ballad is eased along with keyboards and orchestral strings that add colour to the heart melting vocals from Angelo.
'Won't Stop Me Dreaming' is bullish bass guitar heavy rock, full of their trademark, hook laden choruses. This fine debut ends all too soon with a surefire winner. 'About This Boy' is my album highlight for sure and I've had it on repeat play many times. Is there such a thing as the perfect song? Well this ticks all the boxes to make it seem so. An angelic spotlight stealing lead vocal is bolstered by sparse guitar lines that weave in an out of bubbling bass guitar and poignant keyboards.
The band are touring extensively for the next four months in the UK, Germany, Norway and Finland. Catch them on the road and be blown away by these songs.
 Collateral album track listing :-
Mr. Big Shot.
Promiseland.
Merry Go Round.
In It For Love.
Lullaby.
Midnight Queen.
Get Back To You.
Won't Stop Me Dreaming.
About This Boy.
Collateral band line up :-
Ben Atkinson – Drums.
Todd Winger – Guitar.
Angelo Tristan – Lead vocals/guitar.
Jack-Bentley Smith – Bass guitar.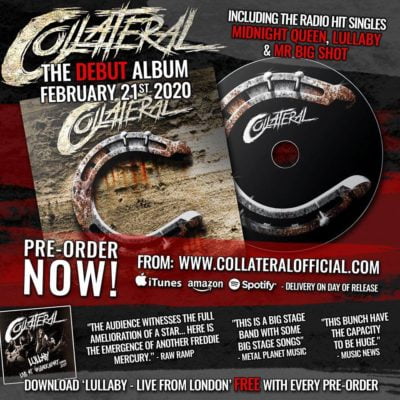 An absolutely stunning debut album consisting of nine enthralling songs.