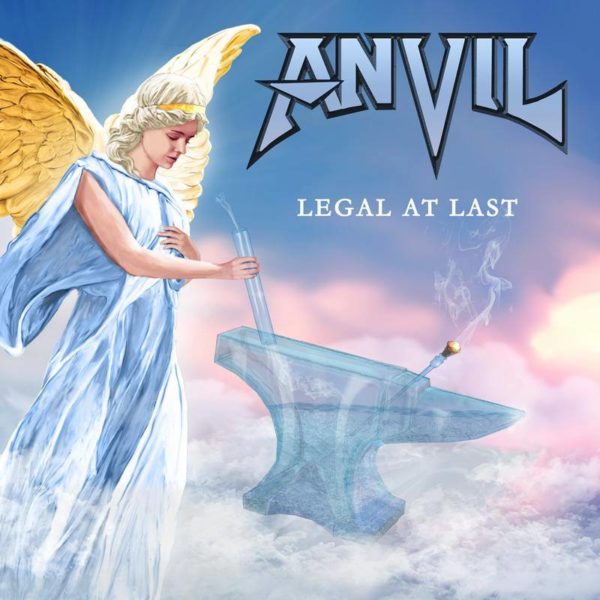 When one of your favourite bands gets in touch to ask for an early review of their forthcoming album, proclaiming "It's gonna rock your ass", it had better be good. Good? With their eighteenth studio album Legal At Last in the can, Toronto based Anvil have certainly walked the walk and talked the talk! Due for release on February 14th 2020 via AFM Records, they are getting the new decade off to a crushing start!
With album titles of Metal On Metal, Forged In Fire, Strength Of Steel and Speed Of Sound to mention a few of their back catalogue, it comes as no surprise that the new album courses along in that vein. The title track opens up here and it champions the changes of marijuana laws in Canada. It starts with the sound of a bong being lit as a spotlight stealing main riff cruises in from Steve 'Lips' Kudlow so strap yourselves in for this rocket ride rager as Lips joyously resounds lyrics of "Not just like the past, legal at last". It's driven along by some booming bass guitar battery from Chris Robertson and wrist snapping snare work from Robb Reiner. 'Nabbed In Nebraska', the first single taken from the the album, chides an incident there whilst on tour with local cops as Lips sneers "Nabbed in Nebraska, misdemeanor serves no time. Nabbed in Nebraska, smoking weed ain't no crime". A grinding riff and furious rhythm section make it an early highlight for me.
Lips goes all ecological on 'Chemtrails', an intense chugger, a surefire banger and heads will roll when played live. Devastating kick drumming drives his lyrics with increasing anger in the choruses of "Chemtrails, poisoning the air. Chemtrails, you know it's not fair. Chemtrails, poisoning the sky. Chemtrails, don't ask why". The demise of our planet is also highlighted in 'Gasoline', a steel toe capped boot stomper in the vein of 'This Is Thirteen' as it ends on the clubbing riffs that it opened with as Lips disgust on how the oil companies rape the Earth are made known. Lips is a long standing fan of Ted Nugent and that is shown with the 'Cat Scratch Fever' like main riff in 'I'm Alive'. The lyrics tell us to live it up as life is too short with choruses of "I'm alive, kicking ass!" The riffs in 'Talking To The Wall' claw at your ears for attention. One of the heavier tracks here, it's heavy metal played as it should be, in true gonzoid style.
A killer riff backed by a masterclass of drumming drives along 'Glass House' in heaving heavy metal thunder. Another grim warning of the future sees a Sabbath like doom vibe spew out in 'Plastic In Paradise', as do lyrics of "Plastic in paradise, in land and sea. Plastic in paradise, high toxic debris". The speed ante is upped fast and furiously for the neck breaking 'Bottom Line' as the band jackhammer out a pummeling groove that doesn't let up, especially during the fast footed mid section and fretboard burning guitar solo. An amplifier shaking dose of speed metal comes from 'Food For The Vulture' as instruments are set from stun to kill as they hurtle along with no holds barred. A twist in the tale sees ' Said And Done' add a twist to the mood as melodic riffs and jazzy drum chops back some of Lips most thought provoking lyrics and the album ends on the bass heavy bludgeon of 'No Time'. It cranks along at full pelt as wise words come from "Don't stop to think, all over in a blink. What the fuck, never stop, rock until you drop!"
Anvil came to be in 1981 following band name and line up changes and these three road warriors begin a lengthy European tour to promote the album between February and April 2020 with more dates to follow. Catch them if you can as it's just what the doctor ordered!
Legal At Last album track listing :-
Legal At Last.
Nabbed In Nebraska.
Chemtrails.
Gasoline.
I'm Alive.
Talking To The Wall.
Glass House.
Plastic In Paradise.
Bottom Line.
Food For The Vulture.
Said And Done.
No Time.
Anvil band line up :-
Steve 'Lips' Kudlow – Guitar/lead vocals.
Chris Robertson – Bass guitar.
Robb Reiner – Drums.
The metal bar for 2020 has already been set high by Anvil.