Rising UK melodic punks YOUTH ILLUSION have just dropped their debut EP, Terms Of Submission. We had a chat with the guys to find out more: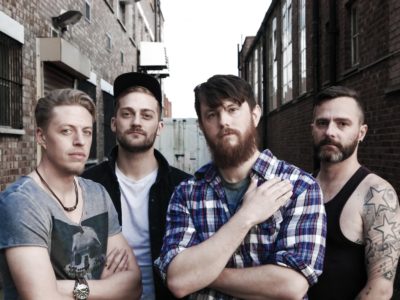 What is the full band line-up, who sings and who plays which instrument?
Youth Illusion is:
Zach Almond – Vocals and Guitar
Matt Ungaro – Guitar and Vocals
Rory Deans – Bass and Vocals
Tim Storey – Drums
How and when did the band form?
The band originally formed by Zach and Rory in London in May 2018 but after a couple of drummer changes and the addition of a second guitarist, this line-up has been together since April 2019. Despite being London based, only Tim is actually English – Zach is American, Matt Italian, and Rory is from South Africa.
When and how did the band really start gelling and solidifying?
The band really came into its own at our performance at this years Camden Rocks Festival; it was our fist show with the new lineup and the addition of the second guitar just gave us a much fuller sound and took pressure off Rory and Zach.
Who are your musical influences?
Our influences vary amongst members; from the classic rock like Guns n Roses and AC/DC that Matt enjoys, to bands like Thrice and Alexisonfire that Zach listens to; Rory is more of the punk/hardcore persuasion and Tim loves his heavy stuff. In terms of our actual sound, I would say its closest to bands like Alexisonfire, YouMeAtSix, Breaking Benjamin and the like
Where did the name of the band come from?
Youth Illusion was just a name that was suggested early on; I think it was only the second suggestion and we all though it fitted well because we are old as balls!
Where have you played or toured?
We have opened as main support for I Set My Friends On Fire at the Parish in Huddersfield, UK; as well as for The Soap Girls at the Monarch in Camden. The biggest is yet to come when we support Mallory Knox at Mama Roux in Birmingham on 30 September. We have also played with bands like A New Hope, The Muffin Heads, CueCliche and Arkdown
In your opinion, how is your band different from all the other bands out there?
This is not an easy question to answer – we know we play good songs and have a lot of fun doing so; we love to meet people after shows whether it be fans or the other bands we have played with and go out of our way to do so. But the biggest difference is our cultural backgrounds and what we all bring individually to the band and how it all comes together to create our sounds – I think that is quite unique
If a deaf person were to ask you to describe the sound of your music, how would you describe it?
Wow, I never thought we would be asked this; I guess we would be like those dance crews that throw people around but there are like 5 people being thrown at once in different places and you aren't really sure which on you should be looking at
Where can we find your social media sites?
We have a youtube account which is growing slowly but we are most active on facebook and Instagram where you can find us under /youthillusionband . We are also working on our website www.youthillusion.co.uk