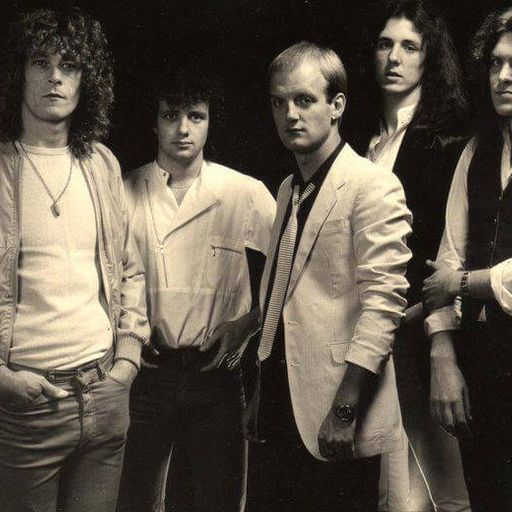 If ever a band could be described as a "Phoenix from the ashes", Hartlepool, County Durham rockers White Spirit certainly fit that title! Formed in 1975 by Janick Gers and Graeme Crallan their 1980 debut single 'Backs To The Grind' on Neat Records got a lot of recognition from the NWOBHM (New Wave Of British Heavy Metal) movement, even though they were more heavy rock and their self titled debut album was released on MCA Records the same year.
Personnel changes saw Janick join the Ian Gillan Band, replaced by Mick Tucker, Toby Sadler took over bass duties from Phil Brady and Bruce Ruff was replaced by a then unknown vocalist Brian Howe. A second album was begun but sadly never completed and the band split with Brian frontman for Ted Nugent and then Bad Company.
Fast forward to 2020 to the sad passing of Brian due to a heart attack. The day after, Mick and keyboard player Mal Pearson spoke on the phone about the missing tapes of the second album but to no avail but miraculously as Mal was sorting a move to France he found some old tapes in an old dusty bedside cabinet, one of which was labelled Chiswick Studios-White Spirit. It was passed onto Tank guitarist Cliff Evans, also the boss of Conquest Music to try and digitally transfer them from analogue but sonically the quality was not acceptable.
It was decided to be re-recorded with Mal and Mick joined by Neil Murray (ex Whitesnake) on bass guitar and Russell Gillbrook (Uriah Heep) on drums. Three of Brian's vocals also had to be re-recorded so up stepped Jeff Scott Soto (ex Journey and Yngwie Malmsteen), Lee Small (Lionheart and The Sweet) and Steve Overland (FM) for a cover of 'Holy Water, a Bad Company song as a tribute to Brian.
So onto the album and it's certainly worth waiting forty two years for as these ten songs are brought to life by a full on mix from Hammerfall guitarist Pontus Norgren, as opener 'Right Or Wrong', sung by Jeff Scott Soto is top drawer AOR but still packs a punch from striding keys, crunchy riffs, knockout blow bass all topped off by a lung busting vocal, fretboard burning lead breaks and near the knuckle lyrics.
First single taken from the album 'Runaway' sees Brian Howe flex his vocal muscles for a tour de force delivery on this sunshine inducing slice of melodic rock of the highest quality and the energy levels rise when the shout em out loud and proud choruses arrive.
Lee Small belts out a spotlight stealing vocal for 'The Dice Rolls On' and he throws a six sixes performance for this hard rocker backed by two luxurious lengthy instrumental pieces.
'Lady Of The Night' is a brooding ballad brought to life by sturdy riffing, swirling keys, a watertight rhythm section and brief instrumental midsection.
The calm before the storm majestic keys/guitar intro to sees 'Gotta Get Out' head off into muscly melodic rock especially from the vocally heavy choruses to end on a sublime guitar solo.
'Better Watch Out' is the heaviest track here as it takes no prisoners from the off, first out of the starting blocks with a stellar lead vocal that competes with a slamming main riff, stabbing keys and bass belligerance.
'Don't Say No' is my album highlight. This hefty headbanger is a five minute adrenaline rush from the ballistic first chords to the galloping outro. A stunning vocal adds fuel to an already out of contol fire to rage hard and heavy towards a midway guitar/keys duel.
A honey coated vocal sees 'Wait A Little Longer' a jaunty rocker. Bass guitar is high in the mix as a midway surge heralds kick drum overload to end on a seismic stomp.
'Holy Water', the Bad Company cover from Steve Overland is all heavy blues from gargantuan grooves to up the heaviness ante as he swoops and soars around the musical dust that it kicks up.
Final track 'Rock And Roll (Is Good For You)' is a drum driven anthem with every cliche in the book thrown in and I love it! Brian belts it out with aplomb backed by some mighty band delivered "Whoa oh oh's", given more power from bass bombardment sizzling six string fury and the grandiose midsection brought to mind vintage Rainbow. What a way to end on!
Purchase links to the album and other band info are here :- https://slinky.to/RightorWrong I http://white-spirit.co.uk I https://www.facebook.com/profile.php?id=100057431412727
Right Or Wrong album track listing :-
Right Or Wrong.
Runaway.
The Dice Rolls On.
Lady Of The Night.
Gotta Get Out.
Better Watch Out.
Don't Say No.
Wait A Little Longer.
Holy Water.
Rock And Roll (Is Good For You).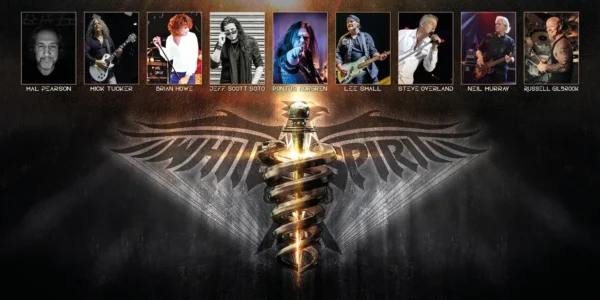 After an over forty year wait, White Spirit prove there is no wrongs, just rights as they release the long awaited album Right Or Wrong.