Once on a while an album flies towards you and smacks you mercilessly in the face. It's just happened, thanks to this belter from Portugese thrashers Torn Fabriks.
Last year the band released their debut EP 'Mind Consumption ' to rave reviews and this follow up does not disappoint, especially for those of us in our later years. There's an aura of nostalgia sniffing around this release with plenty of inspirational bands knocking about.
Opener 'Outcome ' follows a short intro and hits hard from it's opening bang. Each rhythm and time change has that late 80's whiff of old school thrash, although I'm struggling to put a name to this track's inspiration.
The concept of the album itself "turns out to be metaphorical, representing the conquest of our space in the musical environment,  but it also serves as a metaphor for our new brutal reality, where the value of human life is worth zero, constantly subjugated by the interests of large economic groups, for geostrategic interests ", carrying on where 'Mind Consumption ' left off.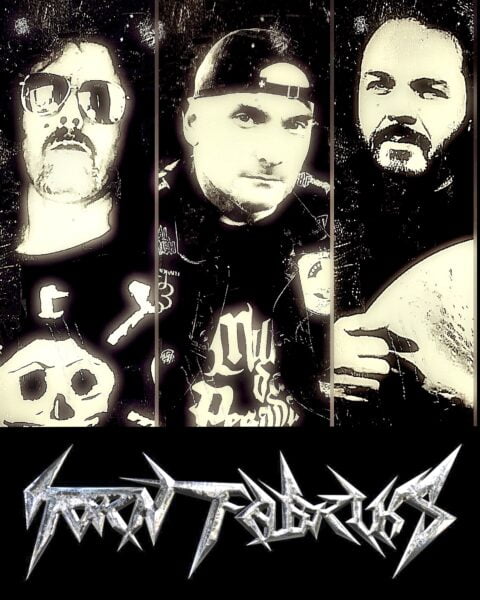 There's a feel of Sabbat in 'Hallucinating Levels ' whilst 'Here ' boasts a Testament vibe. See where this is going?
Production-wise this feels like the beginning of a journey for Torn Fabriks. It not perfect, it doesn't need to be but it's also a million miles away from being the worse I've ever heard. I like middle-of-the-road production mixes. It adds character that can only be heard live a lot of the time.
Either way, the strength of these tracks doesn't need any production wizardry to support them. I love the galloping pace of 'Red Alert ', and the middle section is killer.
Oddly enough every song is virtually the same length of around three and a half minutes. Short and sharp. Nice. There's a guest appearance by Pedro Junqueiro on 'We Torn Fabriks ' which edges more towards a punk vibe, whilst 'Higher Price ' will appeal to fans of Slayer. I'm not going to apologize for comparing these guys with other bands because I think it's a credit they deserve. 'Rise Or Fall ' brings this highly recommended album to a close, but don't take my word for how good it is, listen to it in full on the video link above. Or Preferably, support the band and buy it HERE. Lovely.
Links:
Release date: 27/06/22. Running length: 37mins 53secs. Brutal debut album worthy of being in any thrash fan's collection.
£6.71 (Digital Download)

editor rating