This is the debut album from international slam collective Awaken The Mysoginist.
This 5 piece featuring musicians from 4 different countries (Hong Kong, Switzerland, UK, USA) laid a pretty nasty and brutal starter, with their EP "Abuse of Consumption" in 2020. The three tracks from that EP also form part of this their debut full length.
Now I've taken this on to review, as the name of the band, and description as "Brutal death metal" somewhat intrigued me. Was this going to be a horrible diatribe about doing horrible things to women? Was it going to be truly brutal death metal, or the slam/pig squeal type that I'm not particularly a lover of… Read on to find out!
A dose of humour to start things off?? WTF??!!
Yes, indeed! The first track of the album is a satirical take on those god awful adverts that you hear on commercial rock stations, for below par pub rock acts that "everyone is talking about". Hmm, sounds like a station I used to DJ for…. Anyhow this 87 seconds of nonsense does give second track "Resurrection 1 – Thirteen Bodies" a nasty impact.
This starts with a sample that sounds like its probably from one of those gore obsessed horror movies like Hostel, of some poor dude begging to be let go, before screaming his lungs out as something unseen and unspeakable happens to him. ugh..! Then in comes the slam. My first impressions here are how badly recorded the snare drum sounds. It is your typical very tight sound, but seems to have been recorded on mud. Thankfully the kick has some impact! The riff is sharp, and incisive and the vocals so far are not too bad. Then at 1:12 in comes some of that bloody awful pigsqueal that doesn't even have phrasing to reflect any lyrics (If I had any). At this point, it has degenerated into pretty much bog standard slam of the type favoured by Sevared records.
Aaaand repeat…… x10
So yeah… I'm glad that the first proper track was just under 3 minutes, as I was getting bored with it… So I was glad when the next track kicked in, with probably the best bit of the album – the famous Pinhead sample from Hellraiser – "Stop your tears girl – it's a waste of good suffering".
A note to the Cenobites – get a copy of this album, and play it to your victims, as they are likely to tear their own skin off without you having to do anything to them!
Unfortunately, and also the main reason I have never taken to this sub-genre of DM, is that it all sounds the same. Yes, different intro to each song, but the riffs are boring and generic. The pig squealing is, to put it bluntly – sodding awful. It's noise for the sake of it, as I said earlier if it related to lyrics, you would not be able to discern which word or phrase it relates to.
Which is a pity..
Because this could have been great with the mixing of minds and musicians. Also, the cover art is great – some kind of human centipede being attacked or urged on by some flying demon. It's the type of cover that makes you want to find out how the music sounds. Alas for me Awaken The Mysoginist are just another slam band. They could easily be one of however many that play this style. However, if slam is your thing, then you should give it a listen to.
I wasn't expecting this to do much for me, but without giving it a listen, I could have been missing another album to add to my best of 2022 list. As you have read, this is far from the case, but at least it wasn't quite as god-awful as the Black Void album I reviewed a wee while back!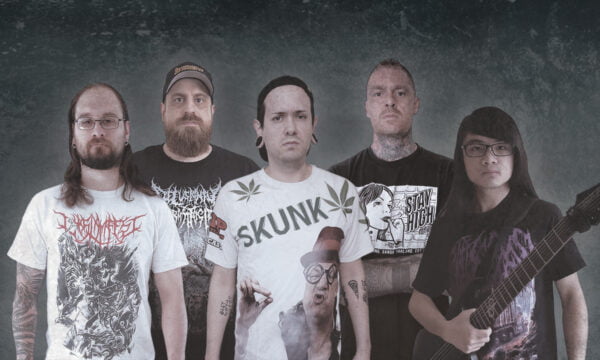 L-R: Joe Mortimer (UK) – Bass, Livio Wellinger (CH) – Vocals, Jameson Blomgren (USA) – Vocals, Guido Wyss (CH) – Drums, William Ng (HK) – Guitars
Track Listing
01 – Slamertainment Tonight
02 – Resurrection I – Thirteen Bodies
03 – Leeched
04 – Breeding Violence
05 – The Cleansing of Ignorance
06 – Crimson Horror
07 – Tsuchigumo
08 – A Satan Rose
09 – Infinite Regression
10 – Resurrection II – Reigning Terror
11 – Kanstepated
12 – Abuse of Consumption
Playing time 33 Minutes
The album is released on September 9th
Links
https://awakenthemisogynist.bandcamp.com/
https://www.facebook.com/awakenthemisogynist
Alas for me Awaken The Mysoginist are just another slam band. They could easily be one of however many that play this style. However, if slam is your thing, then you should give it a listen to.
£6.66 Digital, £10 CD

editor rating