APF Records is delighted to confirm the release of WASTED DEATH's debut EP Ugly As Hell on 9th April 2021. First single I'll Feed It You drops on all streaming sites on 5th March. 

Wasted Death is a balls-out gutter punk-metal band featuring Wayne Adams of Big Lad and Petbrick (with Igor Cavalera), Charlie Davis of Beggar and Tom Brewins of USA Nails. They're a bit d-beat, a bit Converge, a bit noise rock, a bit fuckin' special.

Wayne Adams explains:


"So Wasted Death is definitely a lockdown baby. I'd been working on and thinking about lots of my other projects, Petbrick, Big Lad and Cower – all three of these projects are kind of epic, quite synth-heavy endeavours. I wanted to do something kinda the opposite to that, simple and direct, to try to hit that sweet middle ground between Punk and Metal. Motorhead, Zeke, early Black Breath. I kind of like to think of it as Part Chimp-esque but if they were a D-beat band.


I used to play in a band with Tom the drummer, called Death Pedals – he now plays in USA Nails and totally rips! So I got him to come over to my studio and I set the click to 200bpm and off we went. Charlie from Beggar I've recorded plenty of times, and I think what he can do with his voice is off the hook, so I roped him in to do vocals, and he's also gonna smash bass duties. I play the guitar – well I can't really play the guitar – so I tuned all the strings to the same note and that seemed to sound cool, I stole that idea off USA Nails, they stole it off Part Chimp who probably stole it off someone else!
And that's Wasted Death!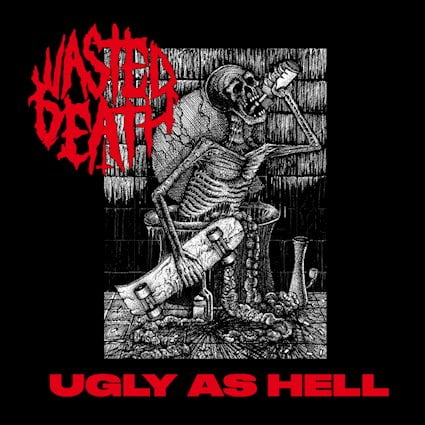 Ugly As Hell will be available on CD, cassette tape, digital download and t-shirt bundle. Pre-orders commence Friday 5th March.
Pre-order links:
https://wasteddeath.bandcamp.com/
https://apfrecords.co.uk/bands/wasted-death