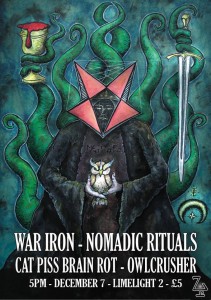 With the grey clouds broiling overhead heralding the true onset of a wet Belfast winter, and even the hardiest of 'fleg' protestors scurrying for the comfort of the gluhwein tents in the nearby Christmas Market to which they so vehemently object, the the most diehard warriors from the city's metal community, in its variant united shades, once more are huddled into the heat starved Limelight in search of an evening of quality metal to warm the cockles of their collective hearts… they are not disappointed!
This evening's gig starts in somewhat unorthodox style, with a spoken word set from the legend-in-his-own-happy-hour that is 'Chemical' Ally Riplash, a man who quite possibly could single-handedly keep the Buckfast distillery in business for a whole 20 minutes, who regales early comers with stories of his mis-adventures following various bands across Europe, including narrowly missing getting arrested in Amsterdam by "playing the dumb tourist", wrecking a band's debut performance by mistaking their dressing room for a toilet and being awoken by a dog pissing on his face!
First band up are Owlcrusher, making a long-awaited return to live action:  sludgier than a pig farmer's boots, and more savage than a battle-hungry battalion of Uruk-Hai, they deliver a sound dragged from the darkest corners of Smaug's smouldering heart which truly sets the pace for what is to come…
https://www.facebook.com/owlcrusherdoom
Next up, Dublin-based multinational instrumentalists Cat Piss Brain Rot (definitely the band with the best name I have come across this year) seem somewhat aloof as they perform with their back to the audience:  but, their dark, pulsating drone, ripped from a junkie's nightmare and delivered with bass levels so dense you can feel your balls vibrate of their own accord and pray to be allowed to crawl back inside your scrotum, is fascinatingly and repulsively hypnotic.
https://www.facebook.com/CatPissBrainRot
Earlier this year, PM described Nomadic Rituals' debut album, 'Holy Giants', as "cathartic and repelling but at the same time strangely enervating":  catching up with the trio for the first time live, this initial aural experience is reinforced, as their brooding soundscapes are built on beautifully harmonic instrumental passages and their dank surrealism, despite its darkness, is heart-pumpingly invigorating.
https://www.facebook.com/NomadicRituals
Sceintists looking for the causes of recent meteorological phenomena such as Typoon Haiyan and the storms that lashed the east coast of England this past week would have been advised to set up their multi-various measuring instruments directly in front of the Limelight stage, as headliners War Iron brought this crushing bill to a suitably earthquake-inducing finale, with Richter Scale inducing double bass lines so heavy that if they'd have been loaded onto the Titanic she never would have made it out of Belfast Lough.  Ironically, the band's performance is loose and relaxed – with Dave in particular adopting an almost "Guitar Hero" attitude, with his head-flailing shredding stances – but nevertheless pummeling in its heaviness and brutal in it effectiveness.