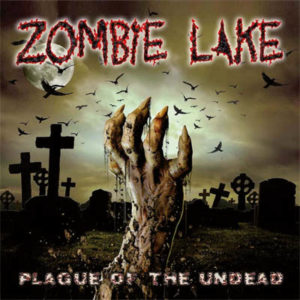 Zombie Lake
are a trans-Atlantic old school thrash metal outfit, instigated back in 2003 when bassist Derek Schilling, from New York hatecore crew Neglect, made contact with Martin Missy, vocalist with German thrash legends Protector:  as the pair's personal friendship evolved so did their musical relationship and now, a decade down the line, they have just released their debut album, 'Plague Of The Undead', via Iron ShieldRecords.
When the label sent out an email requesting interviews with the band, little did PlanetMosh realize that our response would result in the band's first ever interview:  so, if you want the inside scoop on Zombie Lake, read on…
The band has been around for ten years but will probably be a new name to a lot of our readers (mainly because this is your first album), so we'd like to start with a bit of background – you initially contacted Martin by email: what was the reason for the initial contact?
"I have been a Protector fan since way back in the day… I loved the 'Misanthropy' EP:  to me, it's just as great as 'Infernal Overkill', 'Obsessed By Cruelty' or 'Pleasure To Kill'!  My friend Rion (who also plays lead guitar in Zombie Lake) told me about a Protector dedication site, so I just decided to e-mail the contact: by chance, it was Martin… so, I asked him he would like to do a project with me and he agreed!"
You had worked with Antman (ZL drummer Anthony Dalessio) before (in Arkham 13): how easy was it to rekindle that relationship for this project?
"Me and Antman have been friends since high school, and when we started playing together in 1998 we basically never stopped:  we took breaks here and there, but we were always there to jam together – if I have a riff, I know he will be there to thrash out a beat for me…"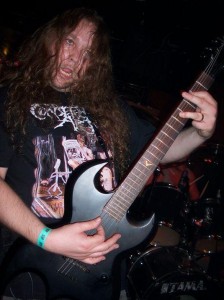 What was the inspiration behind the name?
"Actually, that was Martin's idea!  We do have a song called 'Zombie Lake', and I was throwing around different names when he suggested we use that:  when I asked him why, he said 'let's name the band after the worst German horror movie ever' and I didn't see why npt…"
As we said, you've been around for ten years, on and off, and yet – apart from a demo released back in 2005 – this is your first album: why has it taken so long to produce material?
"It's pretty hard to put together something from different parts of the world" – three-quarters of the band are in New York while frontman Missy now lives in Sweden – "plus a lot of things happened to each of us at different times, which resulted in a lot of delays!  But, now, it's going it's going to be easier and faster:  me and Antman alrady have go six songs for an EP:  we've recorded the music here in New York and its getting mixed in California, after which well send them to Sweden for Martin to lay down the vocals, and then we'll master them here.  I have a lot of material written… I already have the music ready for the next full length album!"
So, for those who haven't heard the first album, what can we expect?
"Just old school, raw, thrashing speed metal:  nothing fancy – just old school thrash.  We're all in our 40s – except Rion, ha ha – but all we know is old school so that's what we play!  I think there are too many bands now that have to be perfect – on time, perfect tunes, etc.  It wasn't like that back in the day:  you heard some mistakes in the record – but it was real!  And that is what Zombie Lake does!"
Does the fact that three-quarters of the band are based in New York and Martin is in Sweden place any particular obstacles in your path when it comes to writing / recording? How does that process work given the geographic separation?
"It works out fine, actually.  me and Antman record the guitar, bass and drums, then I send them to Martin for the lyrics and vocals:  I let him do what he likes for the lyrics and vocal patterns – I trust him and know he will do a killer job, no matter what!  Then, when he sends them back to me, I give them to Rion to do the guitar leads:  again, I let hem shred whatever he wants – although I do ask him to play certain parts in a certain way, if I have the leads planned in when I write the music!"
Given that distance between you, have you any plans for live shows to support the album's release?
"I would love to go to Europe and maybe play a few festival dates to support the release.  Martin does have anxiety about flying, so I know there will be no US shows!  If it ever happens, it would be great – but, it's not needed, as I'm truly honoured to recording music with a thrash singer who I have admired for years, and my main focus is just to give him as many songs a I can – or as many as he wants!"