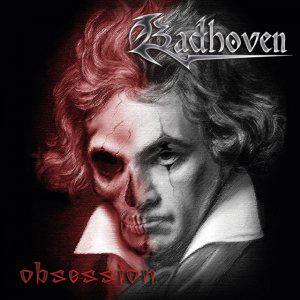 Austrian band Badhoven formed in 2001 and released their debut album "Behind the masquerade" the same year.  They followed this with "Believe" in 2005, and now eight years on, they've released their third album – Obsession.
Although Austria may not be known for it's rock and metal music, it has produced somne great bands – Serenity and Visions of Atlantis being two of my favourites, and of course it's home to Napalm Records.  Now though I can add another great band to the list of Austrian bands – Badhoven.
I have to admit my first thought on seeing the band name and the album cover with its picture based on a portrait of Beethoven was that this might be something like Trans-Siberian Orchestra witha  mix of clasical and rock, but that's definitely not the case.  What you actually have is a great melodic rock album.
"She is so beautiful" is a great rock ballad.  It does seem that many bands feel a rock album isn't complete without a ballad, and sometimes these work well and other times they just don't fit in at all with the rest of the album.  Happily here we have a great track that feels at home on the album.
"When I found you" is the track I'd consider to be the weakest on the album.  It's still a good song, but just doesn't work as well as the other songs in my opinion.  The piano melody reminds me of Bruce Hornsby's song "The way it is".
"Legends of rock" is one of the best songs here – nice guitar riffs, good guitar solo and a strong chorus.
Badhoven is definitely a band well worth listening to if you're a fan of melodic rock.
Track listing:
1. Obsession
2. Fight for our rights
3. Rock you hard
4. I will be there
5. More than a lifetime
6. Legends of rock
7. My brothers red guitar
8. She is so beautiful
9. When I found you
10. Time doesn't matter at all
11. All or nothing