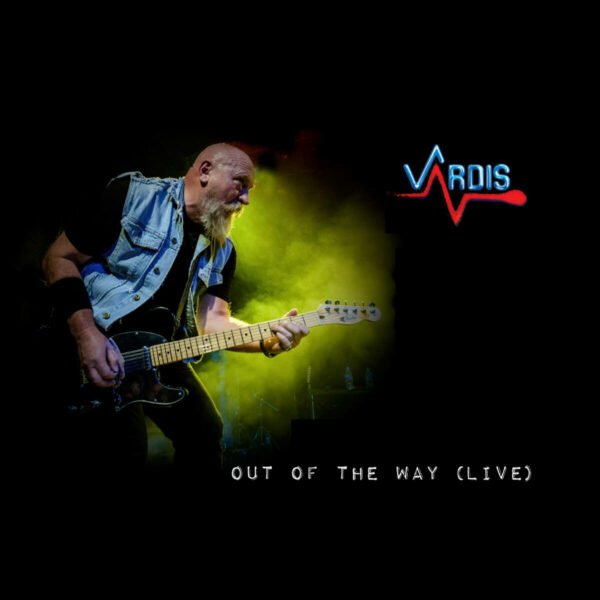 Rewind over 40 years to when I was about 17/18 before the internet came to be, so any music info came via magazines or The Friday Rock Show on Radio 1. Sounds magazine was my musical bible and in the late 70's there was an upsurge of up and coming rock/metal bands that Sounds titled them as the N.W.O.B.H.M, New Wave Of British Heavy Metal, pronounced as Newobbum.
One of my favourite bands from this genre was and still is Vardis, more of a heads down boogie band than heavy metal but they could still tear it up onstage, point proven when I saw them open up for Motorhead in 1980. That same year saw them release their debut album on November 1st, a live affair called 100 M.P.H which came with a 'Guaranteed No Overdubs' label on it entering the UK charts at a respectable #52.
Now fast forward 40 years to the present day as Vardis release 'Out Of The Way' (live lyric video) taken from an upcoming double live album 100 M.P.H@100 Club. Recorded in London on March 13th 2020 it celebrates the 40th anniversary of the original 100 M.P.H and also boasts a 'Guaranteed No Overdubs' label, point proven by this visceral performance of the single on November 26th 2021 via SPV/Steamhammer Records.
Only lead guitarist/vocalist Steve Zodiac exists from the original line up, gone is the long blonde waist length hair but the attitude still remains as he hammers his Telecaster with glee, fixing the crowd with a steely eyed stare as he belts out the lyrics with aplomb aided by the rock solid rhythm section of Joe Clancy on drums and Roly Bailey on bass guitar to a rabid packed out 100 Club.
The album features 20 tracks which includes the whole of the original 100 M.P.H album plus choice cuts from their 4 studio albums, the last being Red Eye in 2016. Links to the single, pre-order links to the album are below that comes in the following formats :- 2xCD DigiPak. 2xLP Gatefold, 140g black vinyl, printed inner sleeves + 1 bonus track. Download/Streaming.
:- https://smarturl.it/VardisLive I https://shop.steamhammer.de/artists/vardis/store I https://www.vardisrocks.com/ I https://www.facebook.com/vardis.official I https://www.facebook.com/SPVsteamhammer
Vardis band line up :-
Steve Zodiac – Lead Vocals/Guitar.
Joe Clancy – Drums.
Roly Bailey – Bass Guitar.
Steve Zodiac still plays as fast as Fireball XL5 on 'Out Of The Way' (live lyric video) on the new 100 M.P.H @100 Club double live album. Lets go!