PlanetMosh's own Dennis Jarman catches up with Steve Zodiac of Vardis for a good old banter:
Dennis: So, we're roughly the same age so
would you agree that music still makes us feel young? It does for me.
Steve: Ayup Dennis, been a while! Absolutely I agree, I get the exact same
feeling sound checking with the band now as I did mucking about with
instruments in my mum's front room with mates from school. Music can
transport you to another time and place, and at our age, if you hear
something that makes you feel like a teenager again you get the added
benefit of forgetting today's aches and pains! I was born in '57,
and it's the 50s Rock'n'Roll music my parents played that has
remained timeless for me. There's an infectious energy to those
records of the post-war generation that has never died, just changed as
it's been passed down from Chuck Berry to the Stones to Hendrix to ZZ
Top and so on. I see it as part of my job to do my bit in carrying that
baton.
D: You've been doing this for over 40 years since forming the band in
Wakefield 1978, did you ever think you would still be playing after all
this time?
S: Certainly not, I genuinely thought that my 8 years as a pro musician
from '78-'86 was enough for me, my feelings towards the industry by
the end meant 'Vigilante' was me putting the cap on it. I had no
intention of ever getting back on stage, and without my wife Irene
telling me to give it a go in 2013 I certainly never would have. I was
as surprised as anyone when I felt that fire burning again and looking
back I'm grateful she did: we got to cut a second record with Terry
and play some magnificent gigs with him, and this new chapter with Joe,
Roly and myself feels like a fresh and exciting new era. Funnily enough
next year Vardis will have been resurrected for as long as we lasted
first time round!
D: Your weapon of choice is still your Telecaster with the ingrained
horseshoe. After all the gigs and studio work, has it needed a lot of
repairs?
S: The "old faithful" horseshoe Telecaster was my first serious
"pro"__ guitar__. I bought it second hand on hire purchase from Les
Watson's music shop in Castleford around 1974. As a kid I wanted one
because I loved the recordings of Taste-era Rory Gallagher, Led
Zeppelin, Roy Buchanan, James Burton and of course the early 70's Status
Quo records. There was no thought beyond that really, I had no idea the
most versatile electric guitar ever made was in my hands, or that it
would come to define my style and the Vardis sound. Their beauty is in
the engineering simplicity – just two planks of wood and a couple of
magnets with single copper coils. That's what gives Telecasters their
wild and unpredictable energy, to master them you need to ride it and
tame it at the same time, a bit like driving an old E-Type Jag. So while
they're quite difficult to control when played at full volume through
a valve amp, they open up sonic possibilities you can't reach with any
other guitar. Getting to grips with it forced me to create my own sound
so after seven years of wrangling with it every day what you hear on 100
M.P.H. is all my musical instincts for tone and feedback channelled
through that instrument. I've used a few different Teles since
reforming the band, but recording at the 100 Club was the first time
I'd played "old faithful" since 1986. It had been in storage for
three decades after being played or gigged every day for 15 years so it
was a bit worse for wear. The maple neck had shrunk after the sustained
period of being soaked through with sweat every night was followed by
years drying out in a lockup.
After chiselling off the crusty 25-year-old talcum powder, I took it up to my luthier Nick Howarth at Trad
Music in Wakefield, who re-fretted it as the old ones were hanging over the edge of the neck! Nick used to dress and set up all my guitars back in the day and knows that Telecaster inside out, so it was great to pick
up where we left off. He did a great job setting it up as you can hear
on 100MPH@100Club.
D: Apart from your long blonde hair back in the day, you also used to play
barefoot. Did you ever have any injuries from venue stages and did the
song 'Power Underfoot' come from that?
S: "Power Underfoot" is more about onwards and upwards really, although you might have a point when I think about it, the battering my
feet took could have been a subconscious influence. Looking back cut and
splintered feet, bleeding fingers and sore throats were pretty normal
and I never gave it much thought. The only time I recall a real injury
was in Finland, we were playing five aside football in bare feet before
the venue opened and I somehow kicked a table and broke my big toe. It
swelled up and went black and with only a couple of hours to the show. I
was in agony and couldn't put a shoe on if I'd tried, so Irene put her
make-up on it to make it look flesh coloured and not scare anyone up the
front! The adrenalin kicked in and we did the show, but I was hobbling
about for days afterwards. I was probably lucky not to have been
electrocuted because of my bare feet considering the state of some of
the sound systems and venues in the old days.
We all had silver foil from fag packets instead of fuses in our amp heads, so going onstage
without rubber soles on my feet could have been lethal. Myself and Alan
Selway went through a phase of leaving our guitar strings full length,
dangling out of the end of our machine heads thinking it looked cool,
and one night in Manchester they touched with a big blue flash, all of
our guitar strings snapped and the main fuses blew in the building which
probably saved my life.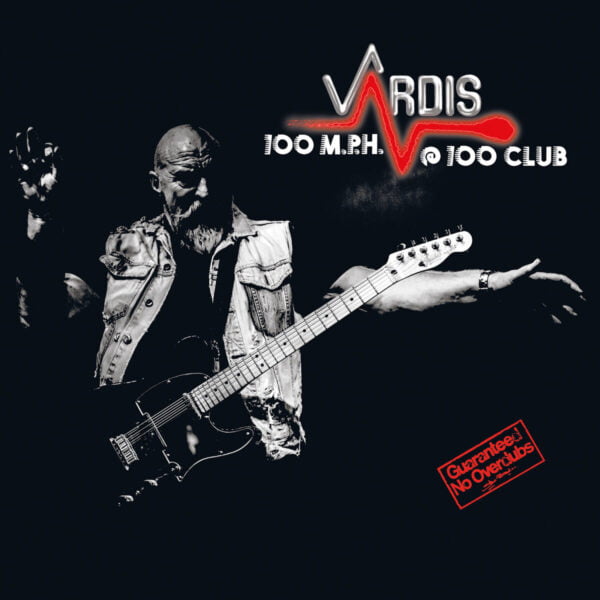 D: A pivotal moment was the release of your debut album 100MPH, a live
release with a "Guaranteed No Overdubs" sticker. A very brave move
that's served you well. Did you have any second thoughts at the time?
S: None whatsoever! The "Guaranteed No Overdubs" stamp actually came
about because of an argument I had with Logo Records. They wanted us to
tart up 100 M.P.H. in the studio a bit, so I dug my heels in and doubled
down __demand__ing the guarantee sticker to reassure the fans instead.
I'm not knocking anyone for overdubbing live albums, I understand the
quest for perfection as much as anyone else, but for me, it felt
pointless re-recording a bit of out of tune vocal, wrong word, or bum
note as I personally don't want to listen a live album that sounds
like the original studio version. I used to make bootlegs all the time
and treasured my recordings of Rory Gallagher and the Faces, warts and
all, as they were about that experience, that moment in time. I never
lost that philosophy putting out Vardis live, I've always been
confident enough to accept exactly what we are live and that studio work
is a very different kind of musical craft. Vardis aim for the highest
quality recordings that represent a purely live experience, and that's
why the "Guaranteed No Overdubs" tradition is still as strong in
2021 as it was in 1980.
D: Another important chapter in Vardis' history was opening up the Heavy
Metal Holocaust all-day show at Port Vales football ground in
Stoke-On-Trent Any fond recollections of that day?
S: It was a very hot, unbelievably loud day and it was over in a flash.
The ground was packed to the rafters, around 40,000 people with a lot of
them jibbing it, this was way before the Hillsborough disaster and the
necessary safety measures that followed. The crowd was magnificent and
our reception was unbelievable, it was one of the biggest Rock shows yet
staged in the UK at the time with one of the loudest sound systems ever
assembled so all we could do was try and live up to the occasion.
We came on to this huge stage and Alan and I couldn't hear a damn thing
through the monitors, but we let them have it and in the blink of an eye
our hour was up. We knew we had done the business because knowing the
calibre of acts to come the crowd was shouting us for more! So it must
have sounded decent. I'd love to hear a decent bootleg of that event.
Backstage was a real family party atmosphere, everyone was in or into
good spirits. I'd met Ozzy a few times before in the Shepperton
Studios bar and he was always generous and supportive with us, game for
a pint and a laugh. He was cool as a cucumber that day and seemed to be
enjoying life after breaking with Sabbath.
D: After a mid 80's hiatus, your comeback gig was Brofest in March 2014, Newcastle-Upon-Tyne. I interviewed you all Sunday lunchtime. I was very very nervous with a shocking hangover. How were your emotions running that day as you were the last band on?
S: I was in a bit of a shocked state I think, disbelief is the word. All I
knew was that the Vardis energy and willpower was still alive from
rehearsal, but I had no idea after 27 years what would happen in front
of an audience. It was another one of those days that flash by, and you
have to stop and think hard as to what had happened as soon as it's
over. After all, those years away I was genuinely humbled that so many
still appreciated the songs and the music. One of the outstanding
memories of Brofest for me was the mix of generations in the crowd,
so many young and old faces mixed together. I met people I recognised
after 30 odd years and some who were barely old enough to buy a drink!
I love the power of Rock n Roll to transcend generations, I felt
it again playing Uprising in 2019 when we were on before Napalm Death at
the O2 in Leicester. Playing to a crowd of younger metal fans mostly
discovering us for the very first time and feeling our music connect
seamlessly is a feeling that's hard to put into words, and I cannot
thank the promoters enough for these great events.
D: The follow-up album came from Red Eye in 2016, sadly the last recordings with Terry Horbury, I thought it was a very strong comeback. Did you sense this as the songwriting progressed?
S: Cheers, I thought so too but I didn't feel we managed to completely
realise the vision for it as Terry was feeling worse and worse as
recording went on and we had to work around that. It would have
benefited from more of his backing vocals, he had such a sweet voice. We
had no idea how serious the situation was going to get then, but by the
time we were mixing it his poor health had overshadowed everything.
Finishing that album was one of the hardest things I've ever done in
my life, I think we only managed to get through it at all because right
to the end Terry so wanted to make the record. I hope it stands as a
worthy tribute to him, even though he didn't live to hear it finished.
Let me say now in the very likely event anyone over 60 is reading this:
'take all the cancer screening tests they send you! Even if you're fit
as a fiddle, don't put it off till tomorrow, just bloody do it!'
In terms of the songwriting, there wasn't really a process for writing
the album as a whole, we worked on songs individually and the worthy
ones made the cut. I tend to note down ideas, lyrics and poems whenever
a moment of inspiration strikes, then get a feel for them musically on
an acoustic guitar before we get together as a band. It's at that
point where we all work on it creatively as a trio and get a sense of
how a song will work. I got a sense while recording Red Eye that the
musical experimentation was working, pushing the Vardis sound into
heavier, bluesier territory with slide guitar was always a risk but I
think it paid off in that the album stands apart from our other studio
work. I feel lucky to be healthy enough to still do it and have the
energy to try new things. I'd like to say we've matured like a fine
wine, but in truth, it's probably more like whisky. Added some depth
but lost none of the kick.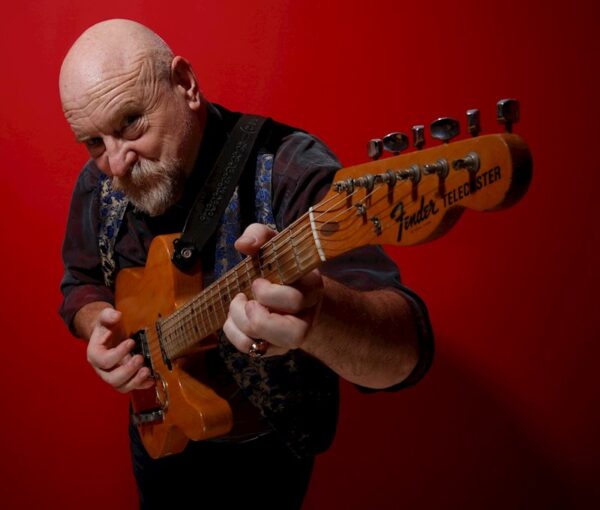 D: The pandemic has hit us all hard but you seemed to align the stars right to fit a gig in just before everything imploded. The resulting 2 hour, 20 song show at the 100 Club in London on Friday 13th 2020 was recorded and is due to be released as 100MPH@100 Club, again with a "Guaranteed No Overdubs" sticker. From the clips I've seen, it looked like a very hot gig.
What are your standout memories of that night?
S: Apart from fist-bumping the crowd as we came out and splitting a
fingernail down the middle during the 100 MPH solo I don't remember
much about the events as opposed to the atmosphere and emotions. So much
odd energy was swirling around, we were on the cusp of Covid shutting
down the world: some ticket holders were locked down in their home
countries, others had already come to London, and the 100 Club was
bombarded with calls and emails asking if the gig would be pulled. On
top of that uncertainty was the pressure of a one-take album Joe Clancy
recently pointed out to me that most live albums are compiled from a
tour or at least several shows so that the best performances of each
track can be selected. I'd not given it any thought beforehand, but
even 100 M.P.H. was made up from two performances.
On reflection, I realise how this one-shot recording at the 100 Club put enormous
pressure on all three of us to deliver something special. So now we know
how it feels to play in a cup final I suppose, and not only that but to
go out there and enjoy it! I have to say that Joe Clancy and Roly
Bailey are fantastic musicians, two of the greatest I have played with,
and their performances on this album prove it. They rose to the
occasion and so did the crowd, I'll never forget that charge in the
atmosphere, with all the uncertainty and joy of the moment bound up in
it. It's great to have captured that on this record. Nobody who
enjoyed the original 100MPH album will come away from listening to
100MPH@100Club disappointed, and I'm confident enough to say:
Guaranteed!
Thank you for your time,
Dennis Jarman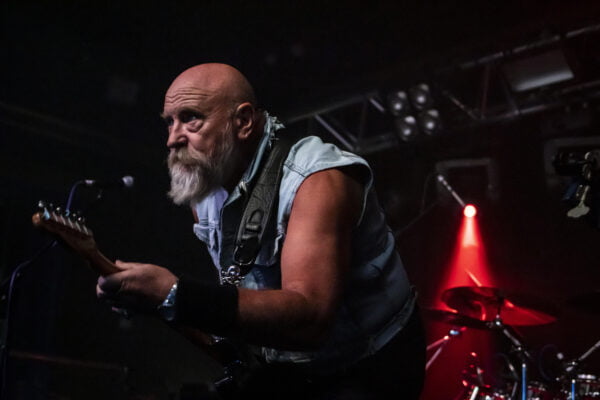 VARDIS Links: https://www.vardisrocks.com/ | https://www.facebook.com/vardis.official | https://open.spotify.com/artist/4NqPFFq0krnSJjs6vRN2HU | https://soundcloud.com/vardis-official I https://smarturl.it/VardisLive I https://bit.ly/3lZzlVf