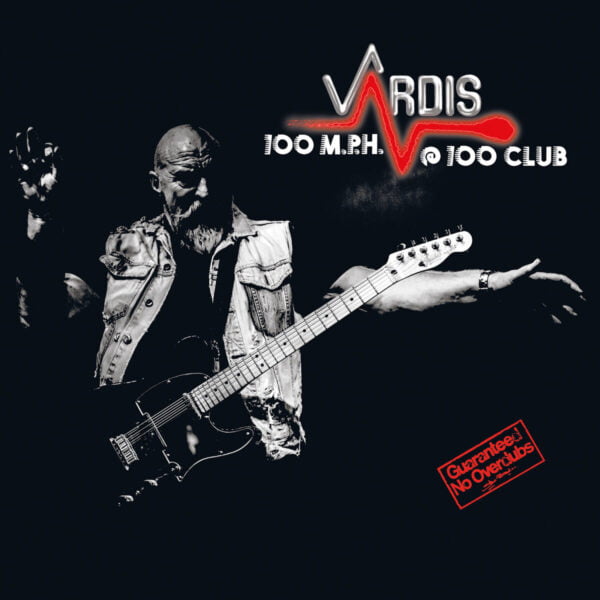 In the mid-1970s when I was a spotty teenager, there was no internet to find out new rock/metal bands so you had to rely on your local record store, The Friday Rock Show on Radio 1 or music magazines. My bible was Sounds that went on to turn into Kerrang. A surge of young bands seemed to come out of nowhere and Sounds called them NWOBHM (New Wave Of British Heavy Metal), the main protagonists being Iron Maiden, Saxon, Def Leppard, Diamond Head etc. but one band who really pricked up my ears were Vardis, a 3 piece boogie band formed in Wakefield 1978 by lead singer/guitarist Steve Zodiac.
I've been privileged over the years to interview Steve and found him very intelligent, witty and someone who doesn't suffer fools gladly as Vardis' record company found out when he insisted that their debut album 100 M.P.H, a live release would be completely live-bearing a sticker on the front cover proclaiming "Guaranteed No Overdubs". They sadly split up in the mid-'80s after releasing 3 studio albums but decided to give it another go by reforming in 2014 and releasing the Red Eye studio album in 2016.
Fast forward to the present day as they release a double live album titled 100 M.P.H @100 Club via Steamhammer Records. Recorded at the 100 Club in London on Friday 13th March 2020 it certainly wasn't unlucky that day as they powered through a 20 song/ 2 hours set to a rabid crowd just before the first Covid 19 lockdown and once again the album cover proclaims "Guaranteed No Overdubs". It contains all of the original 100 M.P.H album and choice cuts from their 4 studio albums.
It kicks off with 'Out Of The Way', delivered as raw as the original showing that the fire still burns and it's not just a last hurrah! The rhythm section of Roly Bailey on bass guitar and Joe Clancy pin down Steves razor-sharp riffs and he's not lost his distinctive vocal twang either.
'Steamin Along' certainly does as it roars down the tracks on a first-class ticket to ride the main riff backed by a pummeling Rickenbacker bass workout.
The rhythm section steals the spotlight in 'Paranoia Strikes', locking in tight behind rockabilly like riffs and a howled lead vocal that takes a breather for a bluesy outro.
The riff for 'Situation Negative (Boogie Blitz)' still sends chills after all these years making it a positive not a negative as it's stretched out longer than the original version with the tasty rock and roll 'Boogie Blitz'.
'Red Eye' is a brooding hard rocker that has a put up or shut up attitude running through it, starting off and staying in first gear for a feral 4-minute grind.
'Dirty Money', wow! That main riff still gets me headbanging and somehow they bash it out heavier than the original as Steve stretches out the solo.
'Where There's Mods, There's Rockers' is a slightly slower take on the original but loses none of the power as it kicks harder than a mule and the message from the lyrics still ring true.
'Don't Mess With The Best (Cos The Best Don't Mess)', a song I've not heard for many years and is a very welcome addition as this drum-driven pounder as Steves words of warning sees the song close on a beautiful guitar solo.
Seismic rhythms resonate through 'Learn How To Shoot Straight' over wiry guitar riffs as a lengthy solo is a must for air guitarists as Steve squeezes in a snippet of 'Standing In The Road' amongst the feedback.
'Move Along' is still a rabble-rouser and for a Vardis anorak like me the first guitar solo is perfection and of course, the reggae-tinged midsection is the calm before the storm full-on guitar freak out that follows.
'Destiny', another classic from 100 M.P.H that hasn't lost any power as this blues with balls song lumbers along on a big fat riff.
The ante is upped as 'The Lion's Share' is a foot to the floor rocker that roars to take pride of place in the set.
Another more than welcome tune dusted off is 'Radio Rockers', a jaunty song with a guitar solo of rock and roll heaven.
'The Loser' is a song of 2 halves. The first half is a foot-tapping, roof-raising heavy riffer that shifts into overdrive midway to test the neck muscles of the most ardent headbanger as a twist on the original comes from a brief bass guitar solo.
'The Head Of The Nail' is a slice of melodic rock as Steve pours his heart out with a high pitched vocal that doesn't waver.
'Jolly Roger' is my fave track from the Red Eye album by far. The almost spoken-word intro sees it set sail for a rum driven, smile-inducing sea shanty that will get you up for a jig!
'Let's Go Again' is a new take on 'Let's Go', a call to arms that unites the band and fans as one. An early guitar solo is backed by thunderous bass and drum dynamics as Steve lets loose with a fretboard burning outro.
Another new take sees '100 M.P.H (I Won't Go To Hell)' is a longer version of '100 M.P.H' as the first minute is just Steve and his Telecaster guitar crooning until it flies out of the starting blocks on a 9 minute epic of guitar overload as wailing wah-wah gives a new twist on the original.
Only 1 word can describe 'If I Were King', probably their most well-known song, apocalyptic! Once again the anorak in me nitpicked the lengthy guitar solo and once again it's perfection personified, a point proven by deafening crowd cheers.
This tumultuous gig closes on a glorious run-through of 'Living Out Of Touch', another of my favourites. This melody with muscle tune is a fine celebration to end a stupendous gig as Steve has the last word of "You can put your clothes back on now!".
Purchase links to the album and band info are here :- https://smarturl.it/VardisLive I https://www.vardisrocks.com/ I https://amazon.co.uk/100MPH-@100CLUB-Vardis/dp/B09GCJCS6F/?tag=plane09-21 I https://www.facebook.com/vardis.official I https://soundcloud.com/vardis-official I https://www.youtube.com/channel/UCulPHoqa-JfJUS2H0RNxE0g
Vardis band line up :-
Steve Zodiac – Guitar/Lead Vocal.
Joe Clancy – Drums.
Roly Bailey – Bass Guitar.
Album track listing :-
Out Of The Way.
Steamin' Along.
Paranoia Strikes.
Situation Negative (Boogie Blitz).
Red Eye.
Dirty Money.
Mods And Rockers.
Don't Mess With The Best (Cos The Best Don't Mess).
Learn How To Shoot Straight.
Move Along.
Destiny.
The Lion's Share.
Radio Rockers.
The Loser.
Head Of The Nail.
Jolly Roger.
Let's Go Again.
100 M.P.H (I Won't Go To Hell).
If I Were King.
Living Out Of Touch.
Step into the Vardis Tardis for 20 supersonic songs that will send you into orbit!