There's a new guitar hero coming around the bend as Troy Redfern throws a lucky six as he releases his sixth studio album The Wings Of Salvation on Red 7 Records on September 23rd 2022, following The Fire Cosmic album that lit up 2021 with its sheer audacity!
It's a hard act to follow but Troy knuckles down for these ten tracks of raw power, point proven by album opener 'Gasoline'. It adds fuel to the fire from slinky slide work, ankle biting snare drums, a gritty lead vocal which explodes in the huge choruses and he does a midway trip up the fretboard for good measure.
'Sweet Carolina' has a Jagger like strut that will have you cutting a rug throughout this raucous rocker as it stomps along taking no prisoners, especially when a midway solo bumps and grinds over some greasy riffing that had me shouting out "More cowbell!".
A truly dirt under the fingernails rock and roller is 'Come On', first single taken from the album as the lead vocal is lung stripping around tribal drum patterns so strong they could move the tectonic plates throughout these four seismic minutes, all topped off by stadium filling choruses and a razor sharp solo.
'Navajo' musically and lyrically captures the vibe from the 1864 Long Walk of that nation. It's an early album highlight as feelgood rhythms bounce with aplomb for some shitkicking vibes and I'm sure I heard some banjo midway.
'Mercy' sees a step back in pace but loses none of the power as this heartbreaker trudges along on reflective lyrics, monotone beats and a solo that races to the finish line leaving a trail of dust behind.
'Can't Let Go' is a mean and moody mindbender of laid back vocals and sparse percussion to make for a melodic rocker but of course that guitar is never far away as it whoops and hollers up to the skies.
'Dark Religion' claws at your very soul but also soothes as I got a nautical vibe from this slice of blues that sets sail over the horizon on guitar squalls. It's an odd song but still impressed highly!
'Profane' is a short, sharp bareknuckle bruiser that rages along on a "Put up or shut up" rollercoaster ride of caterwauling country and western hoedowns.
'Down' gets down with some fiery funk that drives this down and dirty dancefloor filler to hell and back just in time for the catchy choruses.
The album closes on 'Heart And Soul' as Troy digs deep for a Tom Waits like delivery as he wrings every last drop of emotion out of this gravelly ballad backed by a drum thump, huge handclaps and the outro solo is like fire and brimstone!
Purchase links to The Wings Of Salvation and other band info are here :- https://linktr.ee/TroyRedfern I https://troyredfern.bandcamp.com/ I https://www.youtube.com/watch?v=HV7ORpVF4wE
The Wings Of Salvation album track listing :-
Gasoline.
Sweet Carolina.
Come On.
Navajo.
Mercy.
Can't Let Go.
Dark Religion.
Profane.
Down.
Heart And Soul.
The Wings Of Salvation album personnel :-
Troy Redfern – Lead Vocals/Guitar.
Paul Stewart – Drums.
Dave Marks – Bass Guitar/Keyboards/Guitar/Banjo.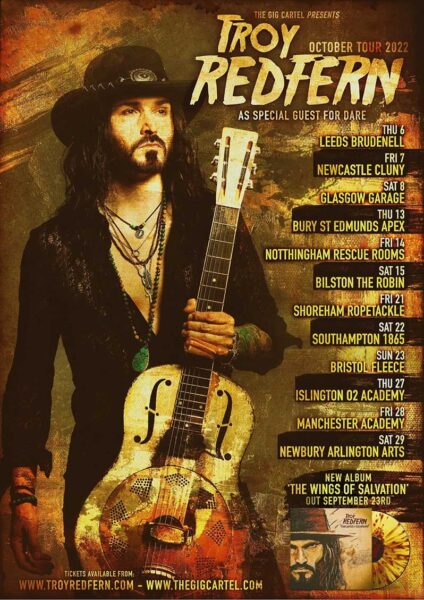 Hold on tight as The Wings Of Salvation, new studio album from Troy Redfern take you to the heavens!