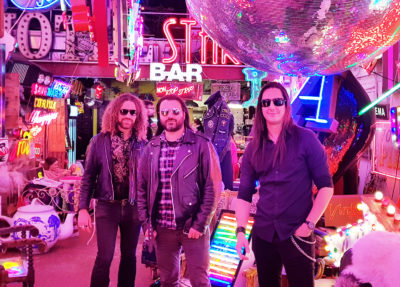 TRIDENT WATERS' infectious groove and contagious riffery are sure to ignite. The Londoners will release their new EP, Hollywood To Vegas, on Friday 7th June. Prior to this, the trio have just dropped a brand new video for the single, Eva Lane. We asked the guys to introduce themselves:
What is the full band line-up, who plays what?
Andrew Knightley – Vocals/guitar, Wilson Zaidan – Bass, and Greg Zaka – Drums.
How and when did the band form?
The band was formed in London in 2014, after a couple of line-up changes the band found their groove with the current line-up.
When and how did the band really start gelling and solidifying?
Around a year ago the current lineup was completed and the songs for this EP were written. It was decided that the band would record and release this part of their journey as an EP.
Who are your musical influences?
Led Zeppelin, Rival Sons, John Lee Hooker, Winery Dogs, Albert King, Joe Bonamassa
How far back does your history with each other (the band members) extend?
The band have known each other around a year.
Where have you played or toured?
The band have mostly played the UK with a handful of french dates. The band have plyed alongside bands such as Hawkwind, Procol Harum, Pat McManus, Bernie Torme, Shark Island, Chantelle Macgregor, Federal Charm.
If a deaf person were to ask you to describe the sound of your music, how would you describe it?
I couldn't describe it because they wouldn't hear it would they. So….I would give them a shot of Tequila. Blows ya head off.
Do you have a tour on the horizon?
The band are looking to tour in late 2019 but play regular shows around the UK
Where can we find your social media sites?
https://www.facebook.com/Trident-Waters-987208894645478/
https://www.instagram.com/tridentwaters/