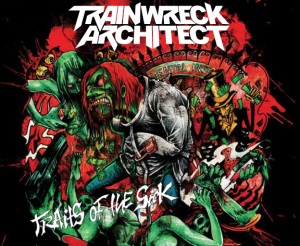 Digging a vein that lies somewhere between classic thrash acts such as Annihilator (Jeff Waters makes a guest appearance on 'As Killer Breathe')  Exodus and Exciter, while trying to induce the more irreverent approach of Anthrax, Montreal newcomers Trainwreck Architect plough a furrow similar to that already explored by the likes of Gama Bomb, Municipal Waste, SkeletonWitch and their ilk.
And they do it extremely well:  the songs are well constructed and mature, with a good mix of power, speed and precision.    Guitarists Raza Ali Khan and Renaud Baril produce some neat, intricate yet melodic riffs, and work well on the more harmonic elements of the tunes, while (now departed) vocalist Simon Ouellet sings in a classic rock style, complete with crystal clear enunciation, that is reminiscent of Joey Belladonna and John Bush.
Although not exactly cutting edge, the cross-pollination of styles – from the classic, almost power metal of 'Die Like A Legend' through the retro-thrash groove of 'The Door Slams Shut' to the neck-snapping speed fest of 'Deadbeat Beatdown' – is handled with aplomb and enough originality to make 'Traits Of The Sick' an engaging and entertaining listen.
Track list:
Comatose Era (Intro) / The Culprit / Die Like A Legend / The Door Slams Shut / Deadbeat Beatdown / Rabid Psychotic Relapse / As Killer Breathe / Dream Pariah / The Narcissist / Feed Them Bullets
http://www.trainwreckarchitect.net/
https://www.facebook.com/pages/Trainwreck-Architect/160132547367321