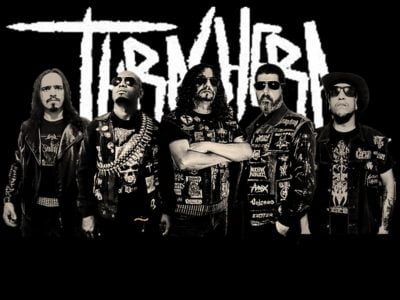 Brazilian rumblers Thrashera release this their third full length studio album, 'Nao Gosto! ' Formed in 2010, the band have oodles of releases to their name since they began, which surprises me that this is only their third studio album release in those ten years.
It starts off well enough. Once we are through the rigmarole of a Portugese rant, we are treated to some good old fashioned thrash courtesy of the album's title track.
'Mare 669 ' bears resemblance to Celtic Frost, as does a lot of this album, and is a fast paced pulsating track with a lovely guitar solo straight out of Slayer's back pocket.
Other highlights include 'Trapped In The 80's (Hard Version) ' which is where we hear the first English lyrics of the album, and 'Metal ', with it's anthemic opening and cracking speed introduction on impact. Nice solo too.
Album closer 'Igreja ' remains a bit of a mystery for me. Definitely not an album closer in my opinion. Overall a good effort from this Rio De Janerio unit.
Track Listing:
1 – Intro Vibora Resistente / Nao Gosto   2 – Mare 669   3 – Rei Dos Excessos   4 – Sangue Ao Metal
5 – Trapped In The 80's (Hard Version)   6 – Metal!   7 – Correntes Nao Prendem Serpentes
8 – Igreja (Tributo Ao Cabeca Dinossa)
Line-up:
Chakal – Vocals   /   Madcrusher – Guitars   /   Bode De Sade – Guitars/Vocals
Anras Vardamir – Bass/Vocals   /   Surtur Impurus – Drums
Links:
Release date: 31/03/20. Running length: 36mins 00secs. A good effort from these Rio thashers.