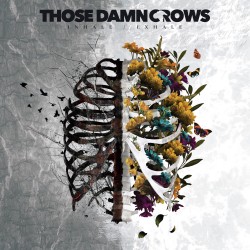 Point Of No Return, the second album by Bridgend based Those Damn Crows released in 2020 is very apt with its title considering they've kept on breaking down doors resulting in their Inhale/Exhale third album recently released via Earache Records.
These ten tracks see them hone their craft of musicianship to a higher level, point proven by album opener, the blink and you'll miss it 'Fill The Void' that also fills your ears with speaker worrying riffing as it flies out of the starting blocks then briefly settles down for melodic tinges when the put up or shut up vocals arrive from Shane Greenhall. A snappy snare drum midway meltdown careers along towards a breathtaking outro.
'Takedown' is a full on romper stomper grooved opus to shake your aural foundations and moments of craziness come from earworm choruses delivered by lung-busting power.
'Man On Fire', second single released is another heavy rocker to test your neck muscles that takes no prisoners as it incessantly roars with aplomb towards an outro that hits the breaks at the last second.
'Wake Up (Sleepwalker)', first single released gives you no hope of sleeping as this grunge tinged magnum opus dominates from a chest beating delivery. It's a real spotlight stealer, point proven by mighty band delivered "Whoa oh oh's".
The first ballad arrives courtesy of 'This Time I'm Ready' so fill your lungs to accompany Shane in the Herculean choruses and heart tugging piano pieces see the song turn itself inside out for a headbanging air guitar inducing outro.
'I Am' hits the nail right on the head as this chafing chugger contains lyrics that tell you to stand your ground and make others take you for who you are!
'See You Again' third single released has another big helping of "Whoa oh oh's" that are mandatory to be belted out or else as this rabid rocker soars skywards on gnarly riffs and a vocal of sheer finesse!
'Lay It All On Me' is a song so laid back it could be horizontal as it smooths along lustily on sugar sweet vocals and easy on the ears rhythms.
'Find A Way' brims with confidence and quite rightly so as body blow punched riffs are a force of nature that forge a blazing trail throughout this ballad with balls.
The album closes far to soon as 'Waiting For Me' has a menacing first minute of belligerent bass guitar and a skin shivering vocal that precedes more air guitar induced riffing of tectonic plate shifting prowess!
Purchase links to Inhale/Exhale are here along with other band info :- http://thosedamncrows.com
Shane shines a light on the concept from which the album grew.
"The album is talking openly and honestly about how we react as individuals to our life's surroundings and experiences. Have you ever noticed when you experience an emotion that your breath changes? We all must learn how to breathe in certain scenarios. How we respond is sometimes more important than how we react in these unpredictable scenarios. We can all breathe, but how we breathe and in the manner in which we inhale, exhale can literally change how we feel in that moment".
Currently on a headlining UK tour with most dates selling out fast and furious, they will also be supporting the Goo Goo Dolls for eight gigs in June and will be playing at Steelhouse Festival on Saturday July 29th.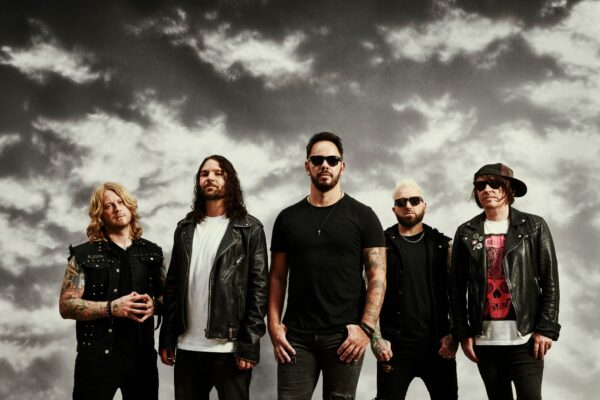 Inhale/Exhale album track listing :-
Fill The Void.
Takedown.
Man On Fire.
Wake Up (Sleepwalker).
This Time I'm Ready.
I Am.
See You Again.
Lay It All On Me.
Find A Way.
Waiting For Me.
Those Damn Crows band personnel :-
Shane Greenhall – Lead Vocals.
Ronnie Huxford – Drums.
Lloyd Wood – Bass Guitar.
Ian 'Shiner' Thomas – Guitar.
David Winchurch – Guitar.

Those Damn Crows fill their nest with ten songs from latest studio album Inhale/Exhale.