Esprit D'Air releases 雫 ('Shizuku') in collaboration with Misstiq
Japanese metal solo project Esprit D'Air, led by award-winning producer and composer Kai, has their new single, 雫 ('Shizuku'), featuring Australian producer Misstiq on synthesizers.
About the track, Misstiq says:
"I've worked with many talented artists around the world, but Esprit D'Air… damn son. One of my absolute favourite collaborations!".
Watch 雫 ('Shizuku') (official music video):
The new single 雫 ('Shizuku') is a re-recording of the first and only 'J-Rock' song on Harmonix's Rock Band 3 for Xbox360 by Esprit D'Air. The original track returned to Rock Band earlier this year as a playable song on January 5th for PlayStation 4 and Xbox One, on Harmonix's latest game Rock Band 4.
Currently, Kai is the only official member of Esprit D'Air since 2016, and appoints session musicians for live shows and tours. Esprit D'Air will be embarking on a 7-day UK tour in February 2023 supported by the Help Musicians charity, featuring Jan-Vincent Velazco (Pendragon, Gus G) on drums, Takeshi Tokunaga on bass, and Yusuke Okamoto and guitar. Joining the tour on main support for all dates excluding London are Diamond Black, fronted by Ben Christo from The Sisters of Mercy.
Kai says:
"Shizuku was the very first song I ever produced in 2010. I produced the instruments entirely, so I am really proud of giving the track new life in 2023 with Misstiq's incredible additions on the synths."
As featured on Loudwire, BBC Radio 1, Kerrang! Radio, and Billboard, Esprit D'Air released their 2nd album Oceans in 2022, which entered six Official UK Charts, including #8 in the Top 40 Rock & Metal Albums, and #5 in Top 20 Independent Albums Breakers. The new album featured members of both The Sisters of Mercy, and Crystal Lake, as well as remixes by HEAVYGRINDER and Shirobon.
Kai is not seeking a major record label but instead, follows a strong DIY ethos and produces everything himself to be as self-sufficient as possible. Consequently, Kai records and produces his own releases in his own home recording studio.
You can purchase the upcoming single 雫 ('Shizuku') on iTunes, or listen to it on Spotify here.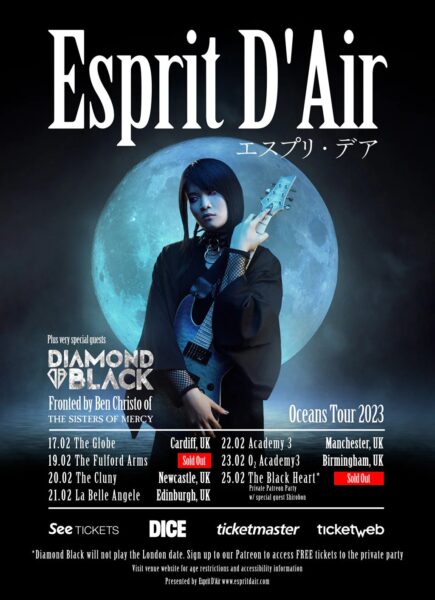 2023 UK Tour Dates:
17 Feb: CARDIFF, The Globe
19 Feb: YORK, The Fulford Arms (SOLD OUT)
20 Feb: NEWCASTLE, The Cluny
21 Feb: EDINBURGH, La Belle Angele
22 Feb: MANCHESTER, Academy 3
23 Feb: BIRMINGHAM, O2 Academy 3
25 Feb: LONDON, The Black Heart (SOLD OUT)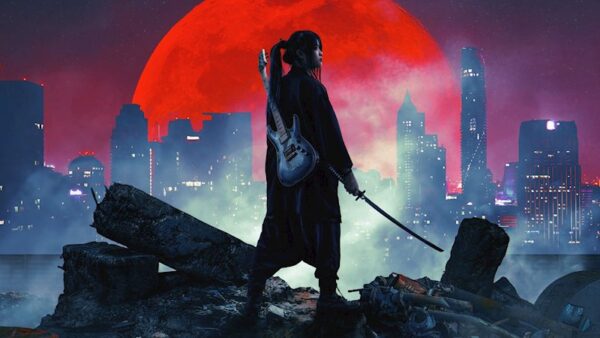 CONNECT WITH ESPRIT D'AIR:
. Linktree: https://linktr.ee/espritdair
. Facebook: https://www.facebook.com/espritdair
. Instagram: https://www.instagram.com/espritdairofficial/
. TikTok: https://www.tiktok.com/@espritdair
. Twitter: https://twitter.com/espritdair
. YouTube: https://www.youtube.com/espritdairofficial. Listen on Spotify