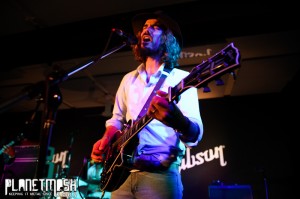 Tonight's press launch of their debut album allowed The Temperance Movement to both showcase their material and live show to those who clearly do not have their radio tuned into Planet Rock, and to run a series of competitions on their Facebook page giving fans the chance to win pairs of tickets to the secret gig. Each and every person there was treated to what is set to become all too soon, a rarity, a small and intimate The Temperance Movement gig at Gibson Studios, London.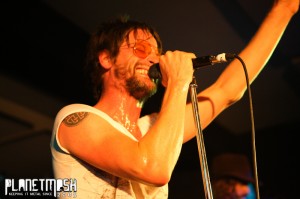 The Temperance Movement cast a great view on stage from singer Phil Campbell in his orange leather jacket and matching sunglasses, to the dapper shirt and jeans combos from guitarist Paul Sayer and drummer Damon Wilson and guitarist Luke Potashnick and bassist Nick Fyffe who are keeping hatters employed. Their set was a good mix of their faster paced songs such as 'Ain't No Tellin' and new single 'Midnight Black', that has Phil swaying around on stage like a young tree in a storm and more mellow numbers like 'Pride'.
Their stage s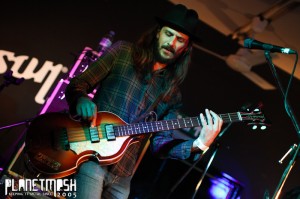 how is enticing, you find yourself looking at each member in turn, seeing how they draw the best out of their instrument. Then looking at them in pairs and seeing how they interact with each other in particular guitarists Paul and Luke who are extremely expressive. They play their instruments as if they are eking out its very soul and both their faces contort as they do so. You can see what their music means to them as they play.
A highlight which encapsulated their talent was 'Chinese Lanterns'. The song starts with just Phil and Paul unplugged performing the opening of the song, when they reach the chorus, the other three band members step up and join in acapella. Their voices combine together beautifully, it is so wonderful to listen to.  They then took their places and played the second half of it electric. The acapella is so wonderful, I would love to hear the whole song that way.
I defy any of tonight's attendees not to have enjoyed the performance and if you haven't already seen this band you can catch them on tour this autumn throughout the UK and Europe from 17th September until 22nd November, full details can be found here –  http://www.thetemperancemovement.com/live.html
Photos by Heather Fitsell of February Photography