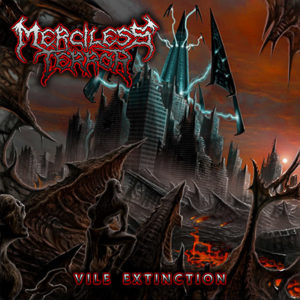 In 2009 Merciless Terror crawled from the depths of hell in Nottingham, UK. This band consists of four members, all ready to make your blood pump of adrenaline. This band is influenced by bands like Slayer, Malevolent Creation, early Sepultura and Bolt Thrower but I also hear some Exhumed similarities. After listening to the album I came to the conclusion that this band creates a nice mix of death and thrash but they also take time to settle your mind with a more persuasive and atmospheric vibe. Over their 4 years of existence Merciless Terror has created 1 demo, 2ep's (which one of them was a Japanese release only) and 1 LP. Now they are ready with their new self titled album.
The album starts with 'Omicide', which immediately enhances the dark feeling of this band. It slowly drags you deep, with a sinister ambiance to the mayhem that begins in 'Doctrine of Malevolence'. Bursting vocals hit you hard in the face along with battering drums and some good riffing. It totally makes clear what this band does, they play solid Death/Thrash and let that be fucking clear! At times, the album gets ridiculously chaotic in a good way. Screeching solos are thrown into your head in 'Baptized in Blood'. It revolves in riffs that make your brains blow out of your eye sockets. In 'Hateful Abomination', the vocalist shows some real flexibility. His raw grunts diversify with some really dirty screams. 'World Desolation' shows you how to use a guitar solo perfectly. It is a skill that some bands struggle with. How often do you hear a solo completely out of place, just for the sake of having a fucking one? A nice surprise comes near the end of this album with 'Dystopic Vensions', which starts with a melancholic clean guitar piece, later darkened up by some very emotional guitar work. Not really something I expected but was very pleased by.
One downside of the album is that it does not show you anything new. All of this already exists elsewhere and it will definitely not shake up your world of Death/Thrash. That being said, I do not think it is their goal to be renewing. This minor gripe aside, Merciless Terror knows how to keep an album interesting. They mix in nice changes to the atmosphere of the music and riff-wise they give you enough variety to keep your attention. What is also notable, is the production of this album; the bass line is hard to define and the drums sometimes fall into the background. Luckily this does not weaken the atmosphere and the vileness of this album.
In conclusion, this is a straight to the point, killer of a Death metal album. The energy level is excessive from the beginning to the end. At the end I was waiting for more; they could have easily included three more songs on this album. Merciless Terror definitely brings you some pit forming menace. Warning: Do not put this album in the CD player of your car; it could result in some serious speed limit penalties.
Merciless Terror is:
Dale: Vocals
Luke: Guitar
Dan: Bass
Michael: Drums
Tracklist Vile Extinction:
1- Omicide
2- Doctrine Of Malevolence
3- Circle of Contempt
4- Enraptured
5- Baptized in Blood
6- Hateful Abomination
7- Process of Eradication
8- World Desolation
9- Imminent Death
10- Dystopic Visions
11- Existence Denied
Links: