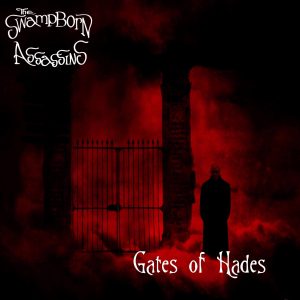 Welcome back to The Swamp Born Assassins! It's been over 18 months since I reviewed their Dead Man's Train album and they're back and firing on all cylinders with their latest single 'Gates Of Hades' available now from Google Play, Amazon, i Tunes,Deezer,Applemusic, Spotify and from the band website.
Since the album they've added David Cowan on keyboards and he has added a new colour to the Swampers palette, point proven by his eerie lengthy intro. The band crash in after a minute and a half to deliver one of the heaviest songs they've penned. Our mad uncle Charlie Moffat on lead vocals delivers with a menacing croon befitting the songs subject as backing vocals from Kirsty Moffat give it a melodic edge.
A ranting chorus of "Close the gate, close the gate, turn the key don't hesitate. Make a deal don't hesitate. Make a deal and seal your fate, don't be late to close the gate" is a stark warning as fleet fingered keyboard and guitar solos give it a prog rock boost. This devilish seven minutes closes on a full outro from the seven piece band and an evil cackle from Charlie.
The Swamp Born Assassins band line up :-
Charlie Moffat – Lead Vocals.
Kirsty Moffat – Backing Vocals.
David Cowan – Keyboards.
Andypaws Christie – Guitar.
Craig Buchanan – Guitar.
Allen Bell – Bass Guitar.
Todd MaCleod – Drums.
Band links :- http://www.swampbornassassins.com/http://swampbornassassins.com/music https://amazon.co.uk/Gates-Of-Hades-The-Swamp-Born-Assassins/dp/B08P7GL28F/?tag=plane09-21
Funkadelic and psychedelic madness from The Swampers!