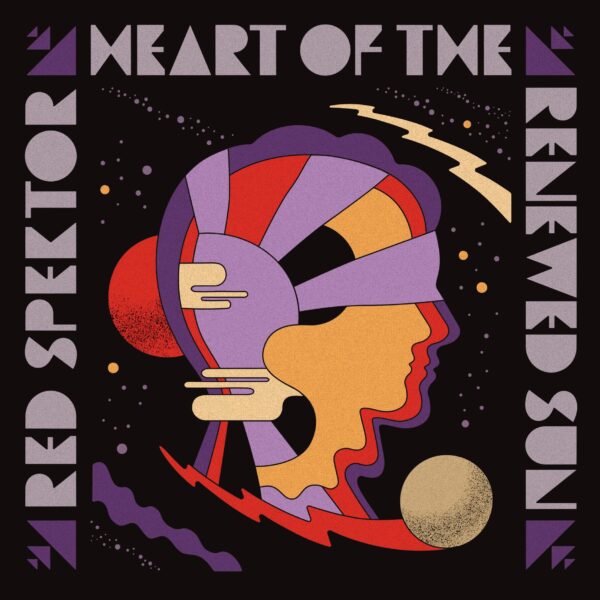 Welcome back Red Spektor! It seems a helluva long wait since their self titled debut crushed us four years ago but they are back with a vengeance with a new line up and new studio album Heart Of The Renewed Sun.
Their stoner rock if anything has got even more powerful, destined to shake the foundations of any music venue. Mind boggling time changes for album opener 'Warflower' make it impossible to pigeon hole so just strap yourselves into your headphones for a fuzzed up white knuckle ride. Guitar squalls from John Scane come out of nowhere to rattle your ears as an ambient midsection is the calm before the storm of the slamming outro from the rhythm section of Rob Farrell on bass guitar and new drummer Jonny ESP.
'Revol' is a glorious grind that writhes along on big fat riffs and sledgehammer blow drum patterns. The pace picks up as Johns vocals are delivered mantra like and he lets rip with a fretboard burning solo as this devilish seven minute epic ends on a morose dose of blues. 'Masquerade' is another sprawling epic that oozes along on a sandstorm of desert rock. It's a shitkicking tubthumper but can still pull on the heartstrings from the pleading vocal and a wailing wah-wah piece pinned down by a watertight rhythm section is breathtaking!
Laid back but still seismic bass guitar lines rumble aside mighty riffs and the vocals shift from a whisper to anguished howls throughout 'Gilded Tears'. The snails pace intro to 'Long Way Down' suddenly heads off into a feel good vibe from the rhythms and upbeat vocals as it ends on a brief full on freak out! 'Violet Sun' is the most straight forward track here. It's hard rock at its Earth shaking best and wah-wah overload is monstrous through headphones.
'Hell To Pay' is all Godzilla stomp drum pounds and growling bass guitar lines that provide the foil for histrionic guitar as John wails away with howling feedback, a full on freak out and heart worn on sleeve vocals. This over the top album ends on the juddering jam of 'Ivory Towers'. It has a loose vibe as if recorded in one take. I've managed not to use the K word so far but the ghost of Kyuss here is in abundance.
Heart Of The Renewed Sun album track listing :-
Warflower.
Revol.
Masquerade.
Gilded Tears.
Long Way Down.
Violet Sun.
Hell To Pay.
Ivory Towers.
Band links :- http://www.RedSpektor.com/
The Stoke-On-Trent sonic assassins make a resonating return!