Judging by the strength of Caught By The Machine, the third album by The Room, I'm looking forward even more to their set at Rockforce Festival on May 5th.
Ten songs of crafted melodic rock have just been released on White Star Records make it an essential purchase for me as the sextet hit hard with opener 'Bodies On The Road'. Guitars shift from breezy lines to beefy powerchords and a rip roaring solo. 'Run' is more laid back that heavies up when the keyboards arrive and a drum heavy outro with the icing on the cake coming from soul searching vocals. Another vocal tour de force dominates the reggae tinged grooves in 'Broken'.
They like to stretch out and write long songs, point proven by 'The Golden Ones' that is full of uplifting rhythms and hope giving lyrics that are eased out of the way briefly midway by a heavily riffed and keys passages. 'Just Walk Away' is the sum of two parts, the first being a keyboard heavy slice of alt rock that switches to a full on rocker and this fashion carries over to 'Drowning In Sound' that brought to mind vintage Rush. Heavy guitar and bass guitar powered choruses follow lighter pieces of soothing keyboards and guitar lines. 'Clover' is a suns out, hit the road and wind the windows down song so as to share this upbeat feel good rock and put your foot to the floor when the guitar solo kicks in!
'Vanished' is nothing less than an eight minute force of nature ballad that sees Martin Wilson gives his strongest performance. The song is so long that it allows room for three emotional guitar solos. 'It's Not My Home' is majestic pomp rock with vocals that deliver a powerful message throughout and its long journey ends on a drum driven outro. The albums ends strongly with the quirky 'Bloodstream' as the almost funk rock verses vie for attention with the big riffs that are never too far away.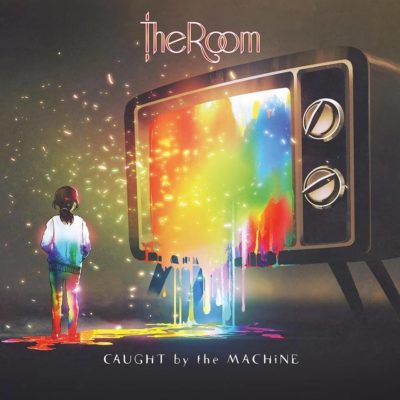 The Room band line up :-
Martin Wilson – Lead vocals.
Eric Bouillette – Guitars.
Chris York – Drums.
Steve Anderson – Guitars.
Mark Dixon – Keyboards.
Andy Rowe – Bass guitar.
Caught By The Machine album track listing :-
Bodies On The Road.
Run.
Broken.
The Golden Ones.
Just Walk Away.
Drowning In Sound.
Clover.
Vanished.
It's Not My Home.
Bloodstream.
A masterclass in melodic rock by The Room.