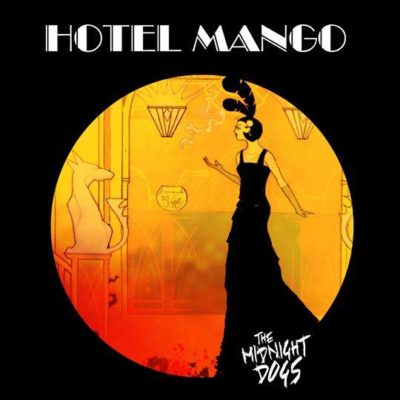 Hotel Mango, the second studio album from The Midnight Dogs can be described by a Rolling Stones song title, 'It's Only Rock And Roll (But I Like It)'. Their self titled 2016 debut showed promise but this release is a real humdinger! Twelve songs will kick your ears one minute, then tickle them the next as album opener Fooling' hits hard with a boisterous main riff. Lead vocalist Rob Cass delivers with a Myles Kennedy like twang as they hit the gas midway for a rollicking outro and one last blast of the killer chorus. 'I'm With You' is all dance floor drums from Neil Drage over rockabilly rhythms, lung busting "Whoa oh oh's" and a fretboard burning solo from Dan Harper. The earworm riff in 'If I Lost My Salvation', a down and dirty groover, is given an edge by a snazzy, soul searching vocal.
'Dead Man (Ain't Going To Change)' is a slavering slice of blues with some off kilter drumming that give it a quirky feel. A heart wrenching vocal tour de force during 'Until My Dying Day' sees this laid back ballad flow freely until a piercing guitar solo eases in for the outro. A touch of sleaze brought to mind The Throbs as 'Black Moon' hurtles along with aplomb. The guitar heavy 'Keep On Moving' features punishing bass guitar lines from Steve Ward, making their presence known. The hoe down barroom boogie of 'Whiskey Bender' will have you reaching for your air guitar as Rob hollers out "So lay my cards on the table, join the fun if you're willing and able".
'Saving Grace' puts the power into power ballad that features emotional, light at the end of the tunnel lyrics. 'Lets Go' kicks out the jams in a short, sharp race to the finish line rager, summed up by the no frills chorus of "Lets go, lets rock, lets go, lets rock". 'Centre Of The Universe' is an adrenaline rush of riffing and wrist snapping snare work, topped off by a full on rant from Rob. The punk rob vibe snarls with vitriol, backed with touches of saxophone. Hotel Mango ends on a whisper as 'Take Me Home', a beautiful ballad that highlights the diversity of the album. Laid back vocals and breezy acoustic guitar chords get edged out of the way briefly for a majestic guitar solo.
 Hotel Mango track listing :-
Fooling.
I'm With You.
If I Lost My Salvation.
Dead Man (Ain't Going To Change).
Until My Dying Day.
Black Moon.
Keep On Moving.
Whiskey Bender.
Saving Grace.
Lets Go.
Centre Of The Universe.
Take Me Home.
Rock and roll at its rabble rousing best!