The Last Internationale 
Announce February / March 2020 Headline European Tour
Watch New Video: "Soul On Fire" 
YouTube Premiere – https://youtu.be/W-85fNpmUkM
New Album: "Soul On Fire" Out Now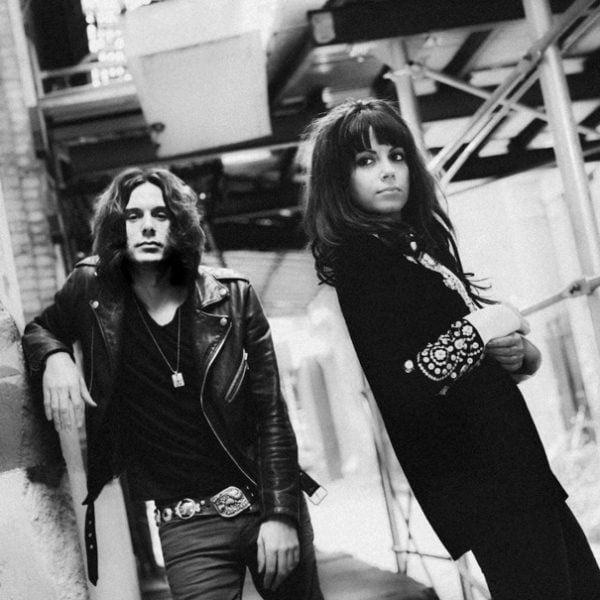 To coincide with the release of their critically acclaimed new studio album "Soul On Fire", The Last Internationale are thrilled to launch a brand new video for the title track, which has been premiered on YouTube and can be viewed here
In addition, off the back of a very successful run of UK dates as special guests to The Cult and Rival Sons, the duo is excited to announce a full European and UK headline tour in February /March 2020. The band will hit the road and bring their explosive and intense live performances across the country.
The title track "Soul On Fire" further showcases The Last Internationale wide range of musical skills. The single is a lot more than an interesting take on a ballad: it's a rock song with heavy blues influences, that changes continuously and yet it never loses itself thanks to the deep, warm and fiery voice of Delila Paz.
The band comments: "We wrote the Soul On Fire album after our escape from the major label system. It was a low point for us, where almost everyone we worked with (or called us "family") had abandoned us. We had to make that dreaded decision of whether to quit or continue the long battle that seemed more impossible than ever. Although our physical and mental health was quickly deteriorating, we reminded ourselves that there are people in the world who are much worse off than us and that we are actually in a very fortunate position where we can continue to use our voices to uplift people and expose injustice. What appeared to be a tragedy instantly turned into a blessing and an opportunity to trust ourselves and once again embrace the DIY spirit that this band is about. The video for "Soul On Fire" was shot by us and a few friends and was edited and directed by us. The NYC running scenes are essentially documentary footage, as Delila was still very ill at the time. Running in NYC woke up our soul and fed our fighting spirit."
The studio record follows their critically acclaimed debut album "We Will Reign" released in 2014, and it bears five years of human struggles within a thankless industry. Self-produced in the Estudios de Bandeira in Portugal, "Soul On Fire" features twelve powerfully intense rock driven -tracks and sees Joey Castillo (Queens of The Stone Age) on drums. "Soul On Fire" showcases the band's song-writing evolution towards a more complex, full-bodied sound; it truly reflects the band's musical and personal growth. The new record is a window on the band's newly found awareness: on one hand the topics remain consistent, creating a harmonious transition between "We Will Reign" and "Soul On Fire", on the other hand the soundscape has dramatically changed. Where previously the sound was round and clean, now it is gritty, rough around the edges and heavy. Musically, the album displays the development of their raw craftsmanship into an intense, intricate and truthful sonic dimension. With "Soul On Fire" the controversy, the fight and struggle are brought to life through the music as well as the lyrics.
Album executive producer Tom Morello (Rage Against The Machine, Audioslave, Prophets Of Rage)  says: "The Last Internationale are one of my favourites in the next wave of rebel rockers. They're raw and real and mix East Village rock sensibilities with Battleship Potemkin firepower."
Track-list 
Intro
Hard Times
Mind Aint free
Try Me
Tempest Blues
Freak Revolution
Soul On Fire
Modern Man
Need Somebody
Hit Em W/YourBlues
5th World
Outro
Freedom Town (Bonus Track)
UK/European Tour 
Support to Rival Sons – November 2019
Wed 13thNov – Lausanne, Les Docks (Switzerland)
Thu 14thNov – Pratten, Konzertfabrik (Switzerland)
Fri 15thNov – Milan, Live Club, (Italy)
Thu 21stNov – Aarhus, Train (Denmark)
Fri 22ndNov – Gothenburg, Kajskjul (Sweden)
Sat 23rdNov – Bergen, Forum Scene (Norway)
Mon 25thNov – Drammen, Union Scene (Norway)
Tue 26thNov – Uppsala, Katalin (Sweden)
Thu 28thNov – Helsinki, Circus (Finland)
UK/European Headline Tour – March 2020
Fri 21stFeb – Le Fuzz'Yon, La Roche Sur Yon (France)
Sat 22ndFeb – Le 106, Rouen (France)
Sun 23rdFeb – L'Antonnoir, Besançon (France)
Tue 25thFeb – 1999 Club, Paris (France)
Wed 26thFeb – La Laiterie, Strasbourg (France)
Wed 4thMar – Das Bett Club, Frankfurt AM Main (Germany)
Thu 5thMar – Clubcann, Stuttgart (Germany)
Fri 6thMar – E-Werk Club, Erlangen (Germany)
Sat 7thMar – Eventall Aiport Obertraubling, Regensburg (Germany)
Sun 8thMar – Spectrum Club, Augsburg (Germany)
Tue 10thMar – Futurum Music Bar, Prague (Czech Republic)
Thu 12thMar – Das Badehaus Club, Berlin (Germany)
Fri 13thMar – Grünspan, Hamburg (Germany)
Sat 14thMar – Kulturzentrum Faust, Hannover (Germany)
Sun 15thMar – Die Kantine Club, Köln (Germany)
Tue 17thMar – 100 Club, London (UK)
Wed 18thMar – Hare & Hounds, Birmingham (UK)
Thu 19thMar – Exchange, Bristol (UK)
Sat 21stMar – Night People, Manchester (UK)
Sun 22ndMar – Stereo, Glasgow (UK)
Tickets for UK dates: https://bit.ly/LastInternationaleUK
Tickets for German dates: www.piligrim.eu/the-last-internationale
Ticket for Czech date: https://goout.net/en/tickets/the-last-internationale/rbff/
Tickets for French dates: www.livenation.fr/artist/the-last-internationale-tickets
"Soul On Fire" is released today and can be purchased and listened to via links below:
UK/Europe physical: https://thelastinternationaleukeurostore.bigcartel.com
Worldwide physical: https://thelastinternationale.bigcartel.com
Stream: https://onerpm.lnk.to/SoFAlbum
The Last Internationale are Delila Paz (bass and lead vocals and Edgey Pires (guitar)