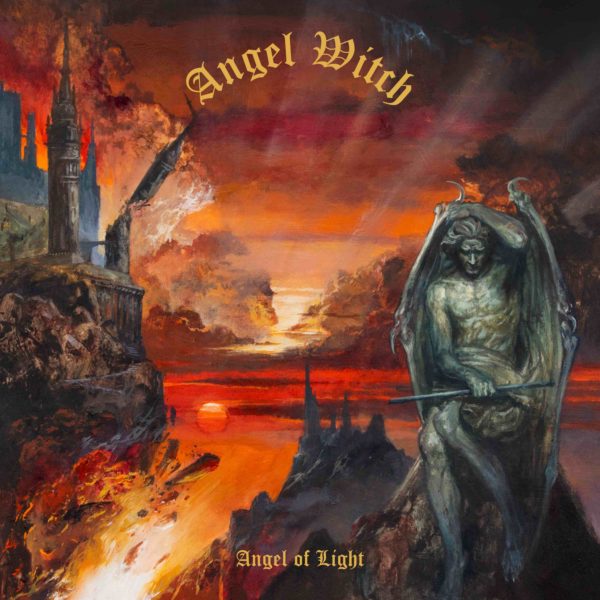 Since their formation in 1976, Angel Witch albums are as rare as Halleys Comet as latest release Angel Of Light is their fourth studio since their self titled 1980 debut but the wait is definitely worth it! Released via Metal Blade Records the eight tracks here are all killer, no filler as they kick off with 'Don't Turn Your Back'. They don't mess around as they go for the throat with a headbanging heavy metal heaven attack with lashings of melody in the choruses. 'Death From Andromeda' rages along like a charging bull as melodic vocals with a touch of menace give it extra potency as air guitars are a must for the raging outro. Knockout blow dynamics in 'We Are Damned' don't let up until its cataclysmic six minute duration ends. Inventive guitar lines caught my attention throughout. 'The Night Is Calling' switches to and fro from serene passages to crushing riffed ones backed by a pleading lead vocal from Kevin Heybourne, one of the founder members. It's an epic that shifts into overdrive for a pummeling end.
'Condemned' is all catchy but hard hitting riffs that drive along this slice of heavy AOR that has rock radio airplay written all over it. 'Window Of Despair' is a glorious full on gallop so nothing to despair about here. The riffs in 'I Am Infamy' are not just ordinary ones, these are riffs of mass destruction causing a five minute shockwave! This very impressive album ends on a high with one last assault to the senses as 'Angel Of Light' hits hard with aplomb. Mauling multi time changes captivate throughout.
Angel Of Light track listing :-
Don't Turn Your Back.
Death From Andromeda.
We Are Damned.
The Night Is Calling.
Condemned.
Window Of Despair.
I Am Infamy.
Angel Of Light.
Angel Witch band line up :-
Kevin Heybourne – Vocals/lead guitar.
Jimmy Martin – Rhythm guitar.
Will Palmer – Bass guitar.
Fredrik Jansson Punkka – Drums.
A welcome return to the studio sees Angel Witch in spellbinding form.