Now I know what some of you are going to say, but before you start. Yes they do remind me of a certain rock group of the 70's. The thing is I don't care. I think, along with a lot of other people that Greta Van Fleet are amazing.
Back in October of last year they released their debut album  "Anthem of the Peaceful Army" and when I heard it I was totally blown away. So much so, in fact, I instantly wanted to see them live. A quick look online and I found, to my delight, they were on a world-wide tour and would visit Liverpool (the nearest city to where I live) the following March, sorted! However the best laid plans of mice and men and all that, meant that a year later on a cold and wet November night I found myself queuing outside the Guild of Students building in Liverpool. My first impression of this Greta Van Fleet crowd was the diversity. Yes there where like me the old rockers, but we were in the minority having been replaced by a young vibrant, and I must say more beautiful audience.
The support artist "Yola" was not my kind of thing being Country/Soul but wow that girl has some voice.
As we waited for GVF (as no one is calling them) I became aware of how tightly packed the crowd was becoming, this was a sell-out gig!
At just after 9pm Greta Van Fleet surged onto the stage and the crowd erupted. The opening number 'Highway Tune' was an absolute barn stormer, no need to warm up the audience as they were already loving every note. I readily joined in, raising my arms to the sky and clapping along. It also served as a reminder to me of how talented they are. Not only was this the first song they ever wrote together, which is totally amazing, but during the number Jake Kiszka on lead guitar gifted us a five minute guitar solo, including a behind his head show off trick.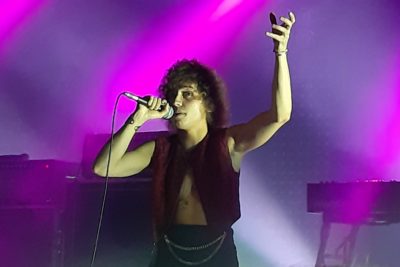 The next eight songs just flew by with every one of them lapped up by all in attendance. The stand out number for me was 'Age of Man' with it's extended organ into. When Josh Kiszka vocals kick in he notably holds back, this raised the anticipation till upon the chorus he gave it his all. This kid has some talent, he seems to have he ability to vibrate his vocal cords in an almost other worldly way. I am left almost speechless, I think I have just seen something special, and maybe have been present at the beginning of a career  that will go on to change the face of modern music (I really do hope so!).
As I looked around during the encore everyone in attendance had smiles on their faces. I could feel such love in the room. Flower power is back and maybe its better than ever.
This was SO worth the wait.
Set list
Highway Tune
Edge of Darkness
Black Smoke Rising
The Music Is You (John Denver cover)
You're The One
Age of Man
Watching Over
The Cold Wind
When The Curtain Falls
Flower Power
Watch Me (Labi Siffre cover)
Safari Song
Band Members:
Josh Kiszka – lead vocals (2012–present)
Jake Kiszka – guitars, backing vocals (2012–present)
Sam Kiszka – bass guitar, keyboards, backing vocals (2012–present)
Danny Wagner – drums, backing vocals (2013–present)
Forget the past Greta Van Fleet are the future. This was one truly amazing gig. 5 stars are not enough.