Due to fan demand, The Answer are thrilled to announce the re-release of their epic 2006 track Keep Believin' (2023). The track which has been the opening number on the band's highly acclaimed recent Sundowners tour, has been conspicuously missing from streaming platforms for a number of years now but that will be put to rights on Jun 23rd this year with the new re-release. The band's 2006 debut album Rise will also make a re-appearance on streaming platforms.
The digital single release will be accompanied by a new lyric video, directed by JJ Eringa who created all the lyric videos for the Sundowners campaign.
Pre-Save Here – https://ada.lnk.to/Keep-Believin
Keep Believin' Lyric Video:
The Answer recently announced a further 5 new UK dates in November and December this year. Manchester, London, Wolverhampton, Glasgow and Belfast will get to see the band perform their latest stunning new show, peppered with hits and loads of material from the much-heralded new Sundowners record as well as a collection of their greatest catalogue hits.
"Challenging the boundaries of rock music, a ballsy mammoth 8 tracks from the new album peppered with some of their hits, everything about their comeback feels a little more deliberate, a reminder of how powerful this bands live performance can be" (Moshville Times, Mar '23)
"This show is fresh – good time positive feel, unapologetic rock 'n' roll" (Rock 'N' Load Magazine, Mar '23)
"An evening of pure rock fury that no-one will forget anytime soon" (The Razors Edge, March '23).
Says lead singer Cormac Neeson,"Keep Believin' opened our run of recent album showcases for the Sundowners release and it was the best time we've had on the road for many a decade! To get the reaction we did from fans in UK & Europe to both the new material and older classics like Keep Believin' has been a shot in the arm for everyone. We're so fired up to get back out again and go even further this time with our new live show. It's going to be awesome, and this band of brothers are chomping at the bit to see you down the front again soon!!"
Sundowners was released on March 17th and achieved top 40 album chart positions in UK, Germany and Switzerland including number 1 in the UK national rock album chart, number 32 in the German national album chart and number 40 in the Swizz national album chart. Produced by rising British producer Dan Weller, the album has received rave reviews across the board and heralds a triumphant return for the band.
"A serious challenger for album of the year" (Get Ready To Rock) *****
"Don't accept imitations, The Answer are truly showing everybody how this s**t is done. The kind of album truly great bands make" (Blabbermouth) ****
"This album is the sound of a band with nothing to prove to themselves or anyone else. They slot so neatly alongside the blues-rock giants that came before them." (Classic Rock Magazine UK) ****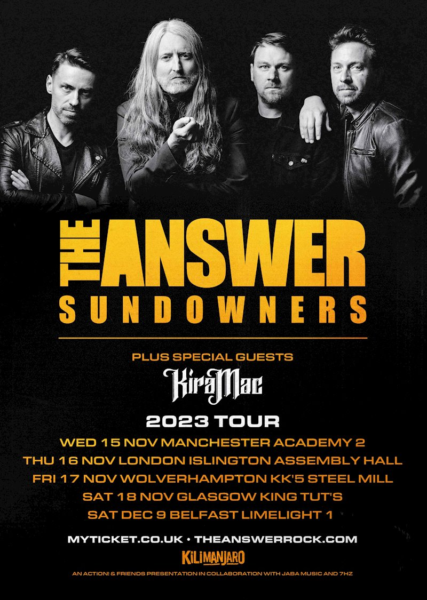 Tickets for the new dates on sale NOW!
UK TOUR DATES
Nov 15th  Manchester Academy 2
Nov 16th  London Islington Assembly Hall
Nov 17th  Wolverhampton KK's Steel Mill
Nov 18th  Glasgow King Tuts
Dec 9th    Belfast Limelight 1 (www.ticketmaster.ie)
All UK shows.
http://www.myticket.co.uk/artists/the-answer
 
SUMMER FESTIVAL
Fri Jun 16th    GrasPop – Belgium
Sun Jun 18th  Radio Bob! RockCamp – Germany
Sun Jul 8th     Knislinge, Time To Rock – Sweden
Sun Jul 30th   Steelhouse Festival – Wales
Sat Aug 5th    Wacken Festival – Germany
Fri Aug 11th    Eschwege Open Air – Germany
Sat Aug 12th  Firevolt Festival, UK
Sat Aug 26th  Stonedead Festival, UK
Sat Sep 2nd   Bern, Gravel Pit Festival, Switzerland
Tues Oct 10th Majorca, Full Metal Holiday, Spain
Tickets on www.theanswerrock.com
Spotify: http://open.spotify.com/album/5c90Qv0wkAfHFu243e7qxX
Apple: https://music.apple.com/us/album/blood-brother/1640395077?ls=1
Deezer: www.deezer.com/album/347612407
https://www.theanswerrock.com
https://www.facebook.com/theanswerrock
https://twitter.com/theanswerrocks
https://www.instagram.com/theanswerrock/?hl=en
https://open.spotify.com/artist/3STTKsLP1gSzGvOVCtNlWS?si=SYnSAgPTS3-Ji4AQvJbz4w