In September The Agonist return with a new album Orphans. One of Canadas finest exports (second maybe to Maple Syrup) this is their sixth studio recording and the third with singer Vicky Psarakis. This is a band with history which I won't go into here, but it is sufficient to say Vicky is in no way just a replacement vocalist.
Opening with the track In Vertigo it begins with a siren's song enticing the listener to fall into the number only to have their head smashed into a wall of intensity. Vicky has the voice of an angel and demon both never feeling forced or faked. These abilities are expressed with screaming, singing, growling and a choir like soprano backing. I'm already thinking this is something special.
As One We Survive is shortly a future crowd pleaser with its chugging guitar riffs and multiple breakdowns giving the mosh pit moments of reprieve only to be picked up again smashed together. I can already hear myself chanting "We suffer as one, as one we survive" although the crowd won't be able to match Vicky's vocal range which she explores at the end of the number.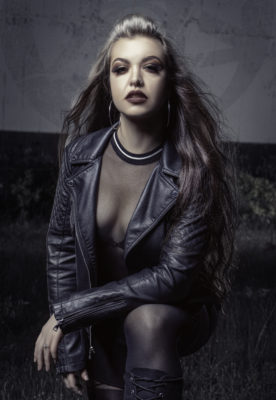 The next track is The Gift of Silence, this is anything but, starting with pure Metalcore for the first 43 seconds before putting on the brakes and giving me a little gem of a pop rock song used as an interval before picking up again. The whole band are just showing off at this point with guitar solos that would sit pleasantly in any classic rock line up one minute, hardcore the next. I'm confused but in a good way.
Blood as My Guide is different again (do they no, no limits) after a short opening guitar bombardment Ms Psarakis lets the listener know she could also front a Dio tribute band such is the force and passion evident in the vocals. She then effortlessly slides from this style back into dirty vocals and back again.
The only downside to all this is, I'm so impressed with the vocals, I'm not talking about the rest of the band. This is a massive disservice, as there is no second fiddle in The Agonist. To prove this point the next song Mr Cold starts with some eerie organ music leading into a rhythmic guitar solo filled with creeping dread.  The main body of the song is a mix of Gothic horror fused with metal in an almost Ozzy like way.
Dust to Dust is up next, Vicky is up to it again, this time harmonising with herself both dirty and clean vocals at the same time. Short punchy and straight to the point.
A Devil Made Me Do It starts at a million miles an hour. I can feel the pit circle forming in my mind. They even give me a minute in the middle of the song to let me catch my breath before setting me spinning again.
The hardest most unrelenting number is up next in the shape of The Killing I a harmonic masterpiece of hardcore rhythms mixed with some fantastic and complex solo work. Vicky floats over the top of the music screaming out the lyrics again with such passion.
The title track Orphans has just about everything you could want, multiple break downs everyone harmonising with each other and storytelling lyrics delivered again with almost every conceivable vocal gymnastics possible.
Finally Burn it All Down hammers home the nail in the coffin. Maybe The Agonist have just delivered their magnum opus. I suspect however they have much more to come. This is an extraordinary album full of conflicts that are sewn together to make a rich tapestry I would hang on my living room wall and probably scare the neighbours with.
Orphans Tracklisting: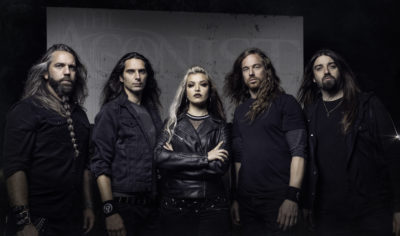 01. In Vertigo
02. As One We Survive
03. The Gift of Silence
04. Blood as My Guide
05. Mr. Cold
06. Dust to Dust
07. A Devil Made Me Do It
08. The Killing I
09. Orphans
10. Burn it All Down
This is a flickering, iridescent and varied masterpiece nestled in between sheer brutality and melodic frailty