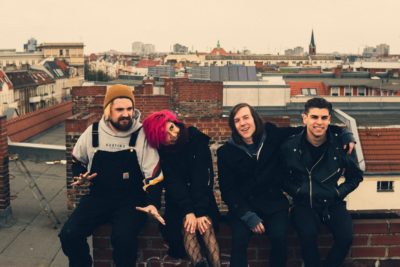 Berlin fuzzed-up alt-rockers CAUSTIC MINDS ( https://www.facebook.com/causticminds/ ) are starting to make a name for themselves. The band have just released their mesmerising new EP, Black Oil For A Soul, which is out now via all streaming sites. This mouth-watering EP takes from everyone from Black Sabbath and The Kills, to The Dead Weather and Arctic Monkeys. We caught up with the band and asked them a few probing questions:
1) What is the full band line-up, who sings and who plays which instrument?
– Laura Jiménez Alvarez: Singer,
– Daniel Viseras Calvache: Guitar
– Michiel Sybers: Bass guitar
– Chris Crabtree: Drums
2) How and when did the band form?
– Dani and Michiel met at a music school in Berlin. We became friends quickly and started the band in 2017 as a music school project. Chris and Laura were in the same friend group but not in the band yet. When Chris returned to Berlin during the summer of 2018, the former drummer left due to creative differences. Chris was the first one we called since he was a close friend of ours and a good drummer. Then, they started playing in small venues making some old school noise around Berlin, a city that used to be an oasis for punk rockers but nowadays is ruled by electronic music.
After the EP recordings, Laura decided to join our band full time since the workflow felt right and everything clicked.
Fun fact, we are a Berlin-based band but none of us came originally from Berlin. Dani is from Granada, Spain, Michiel from Antwerpen, Belgium, Chris is British/German and Laura is from Mexico City, Mexico.
3) When and how did the band really start gelling and solidifying?
– Two weeks before the EP recording sessions we had to part our ways with our former singer which led to a stressful search for a new singer in short notice. Since we already had a good previous recording experience with Laura, we knew how powerful her voice sounded on our songs. (We booked the vocal recordings a month after the instrument recordings because our former singer couldn't come anymore during those days). We had one month to redefine vocals. Laura decided to rewrite all the lyrics during that month because she couldn't relate to the previously written lyrics. One week before the vocal recordings, we were able to finish all lyrics and prepared them with our producer in time. After going through an experience like this our band started a new era, we started growing to be more of a family.
4) Who are your musical influences?
– Queens Of The Stone Age
– Black Sabbath
– Arctic Monkeys
– The Dead Weather
– The Kills
5) Where did the name of the band come from?
– This was the name that Dani and Michiel had previously with the ex-band members, we never came up with something better and everyone already called us by this name. So we just kept it.
6) If a deaf person were to ask you to describe the sound of your music, how would you describe it?
– A flaming Winnebago's high-speed weed-fueled road trip through the psychedelic canyons of a lost planet at the edge of oblivion.
7) Where can we find your social media sites?
– Twitter