Highly accomplished Brit metallers, SYMBOL OF ORION, have just delivered their engulfing new single and video, Old Believers, https://youtu.be/GhJhvd4o32I  .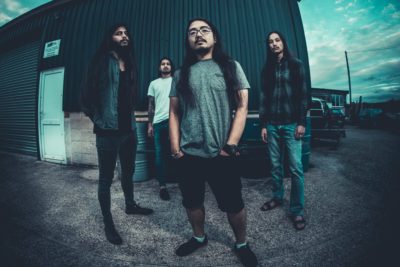 SYMBOL OF ORION offer a sonic soundscape, complete with driven stout riffery, ethereal verses and spiritual chants. Originally from Nepal, but now firmly based in London, the band are comprised of Sumant Bardewa (Vocals/Guitar), Saujan Rai (Vocals/Guitar), Manish Nembang (Bass) and Rojan Pariyar (Drums). Ever since their inception, the foursome have consistently challenged themselves by experimenting with their ever-evolving sound. To date, the metallers have independently self-released four singles, an EP, and 2018's full-length studio album, Unlamented. In addition to a strong release output, the band have also played alongside the likes of Cancer Bats, Underside, and Wretched Soul, to name just a few. The industrious crew have also arranged tours throughout Ireland, and are a highly reputable force within the London metal scene, where the quartet regularly play packed out shows at the likes of The Dev, Underworld, The Big Red, Unicorn, Camden Rock, O2 Academy Islington, Dingwells, and Nambucca.
The band's ethnicity and authenticity are truly unique and original. The talented foursome draw inspiration from Slayer, Metallica, Sepultura and Gojira. However, SYMBOL OF ORION also incorporate musical instruments from their own heritage. The band regularly use Nepalese folk instruments such as a Tungna, and a native string instrument, called Sarangi, to help diversify their sound.  This innovative combination of showcasing both traditional Nepalese folk and modern metal music is indicative of the band's approach and overall vibe. As you can see, SYMBOL OF ORION think outside of the box and should certainly be considered to be Forward-Thinking Metal.
The UK riff merchants have just released their breath-taking new single and video, Old Believers. Stay glued to the band's socials for updates and more.
www.facebook.com/symboloforion  ||   www.youtube.com/symboloforion
https://open.spotify.com/artist/4hKO9mqutJqUg3HoVxPqxh?si=bCKNBuHBTv6zwZIar4EPWA