"The Gods made heavy metal and they saw that it was good. They said to play it louder than Hell, we promised that we would". Those Manowar lyrics perfectly sum up the attitude that Stormrider have conjured up once again with their brand new EP, What Lies Within and what lies within is five full on headbanging tunes! They showed promise with the 2018 release of Heavy Metal Machine but the new EP burns with a new fire.
'Rite Of Passage' is an eerie, calm before the storm intense instrumental intro to 'The Journey Begins' and it does with an incendiary main riff and mighty wail from frontman Mike Coyle. It's a call to arms rage as the riffs fizz along backed by nimble footwork from drummer Robert Beeton and a melodic guitar overload outro. Buzzing guitar lines from Cristiano Lopes dominate 'Fire And Fury', aptly titled as his lines weave around hefty bass guitar lines from Przemyslaw Przytulo as Mike croons with an evil glee, pitching up when the choruses kick in.
'Spirit Of The Wind' is a stunning power ballad with the emphasis on power! Stirring laid back passages lock horns with galloping heavy metal to produce six minutes of captivating music and the EP ends on a high with the title track, another lengthy opus of a brooding first few minutes of laid back grooves and a spotlight stealing lead vocal as it then heads towards a fiery instrumental finish of power metal.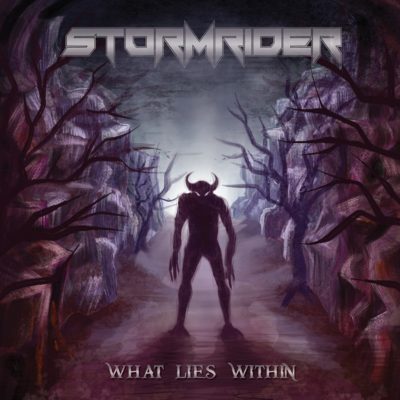 Track List:
Rite Of Passage.
The Journey Begins.
Fire And Fury.
Spirit Of The Wind.
What Lies Within.
Air guitars at the ready as Stormrider are back and blasting away!