Cardiff based thrashers State Of Deceit have released their first EP recently after only a year together. To be fair, for a year they've come a long way. But I also get the impression from this EP that there's a long way still to go yet. These guys are attempting to merge thrash, hardcore etc into a more modern genre and this is clearly heard in the opener 'Tattered Life '.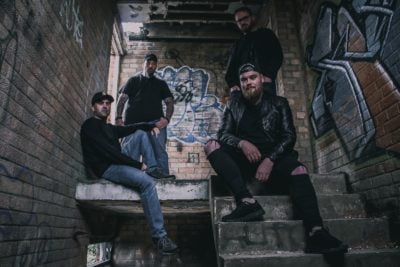 I love 'Vengeance '. It boasts everything that makes a track to me. Yep. You guessed it. Speed changes. Pete's lyrics are oozing power and I fell in love with the serene middle section the minute I heard it. There's a luscious Slayer riff here. See if you can spot it.
'When Words Fail ' shows great promise, if not totally original in it's frame. The band definitely hold Slayer's DNA. Nowt wrong with that. The more the merrier. I do like the way they mix it with more modern genre's though. Nice. Nevertheless this is a great tune and I'm sold.
'No Solace ' lacks the punch of what we've heard so far. I get what the band are trying to do here, and with a little more experience they'll pull it off, that I have no doubt. I'll be brutally honest and I'm saying this to advise the guys but the normal singing doesn't work for me, in both this track and 'The Black '. It doesn't suit the music at all. Stay away guys and give us more of the opening three tracks!
Talking of 'The Black ', the band seem to have shifted from the frightening fuel they gave us earlier and tilted towards a more New Wave thing which, i'll be honest to say that I've never liked New Wave. But I DO  like State Of Deceit, and i DO  like this EP.
'Vipers ' closes what is a confusing debut effort. Maybe the band are still trying to find their feet genre-wise as much as I'm trying to understand their meaning and purpose when it comes to what they want to achieve and portray.
For £3.49 this EP is money very well spent, and maybe all of those who buy this will begin a great journey with what can be a great band. Great production, by the way, and a great effort with some brilliant moments.
Track Listing:
1 – Tattered Life   2 – Vengeance   3 – When Words Fail   4 – No Solace   5 – The Black   6 – Vipers
Line-Up:
Pete Scammell – Vocals   /   Jon Russell – Guitars/Vocals   /   Matt Wilson – Bass   /   Matt Toner – Drums
Links:
Release date: 06/12/19 Running length: 23mins 44secs. Valiant effort and heaps of potential.