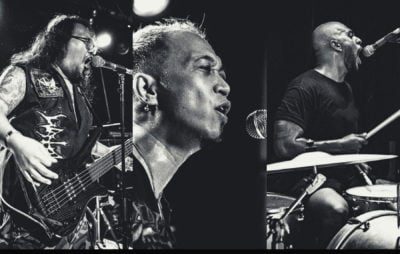 Singapore's longest living Thrash punkers Opposition Party return with this new four-track EP 'Tales To Horrify '. Blink and you'll miss it. This dirty sounding EP is my type of sound, literally.
Not only does it pulsate Slayer-style tones mixed with Exodus-esque vocals, it oozes a filthy production that makes the songs belong where they should be. It's riddled with swirling riffs and a vintage 80's feel which makes it my cup of tea. Kazz's bass sound is filth to the extreme.
Since 1989, Opposition Party have released a whole catalogue of music with this being their 7th EP release, yet only one album release, which seems very strange, given the historical length of the band.
Nevertheless, 'Tales To Horrify ' brings us more of the chaos, dirt and extreme noise that we love.
Track Listing:
1 – Ancient Horror   2) – Evil Paradise   3) – Living Dead Island (Zombie 2)   4) – Parasitical
Line-up:
Kazz – Bass / Backing Vocals   /   Lee – Guitars / Backing Vocals   /   Francis Frightful – Vocals / Guitars
Release date: 15/11/19. Running length: 11mins 40secs. Four songs of filth.