State of Deceit is a metalcore, thrash and groove band from South Wales (UK), whose music sticks a middle finger straight into the mug of the mainstream, and they just premiered a new music video and single entitled "Stalked by Daemons, Guarded by Angels". The band have also announced the availability of pre-orders for their upcoming full-length album Stalked by Daemons which is scheduled to be released on October 13, 2023, via Eclipse Records. The album was produced, recorded, mixed, and mastered by Tim Hamill (Anterior) at Sonic One Studio, and the music video was directed by Unit 15 Productions.
"The title track is such a damn bouncer, it had to be a performance vid of us playing it the way we do every week in rehearsals," says rhythm guitarist Jonathan Russell. "The lyrical theme is serious though, about unfortunate people who are trapped as sex workers. They need lots of hope, support, and strength to help break free. The location kinda represents their environment which is falling down around us.

There's badass graffiti and the darkness is drawing in, it's the perfect place to play some heavy stuff. Working with Drew from Unit 15 Productions was great, he kept us going as the light was fading and it eventually went pitch black. We had to move all the gear back to the van after the shoot, 100m of traversing this bombed-out site with just phone torches and the hope we didn't leave any gear behind!" 

Lead vocalist Pete Scammell continues, "We thought that the abandoned location really brought the song to life. A gymnasium, which was once perfect, then pulled apart and scorn through time. It was definitely appropriate to do the video there because the amount of takes made it a real workout. Our drummer Matt did well over 30,000 steps during the session and we all felt like we ran a marathon afterwards." Drummer Matthew Toner adds "It is true… I did over 30,000 steps that day and then I ate a load of McDonalds after to celebrate (and recuperate)!"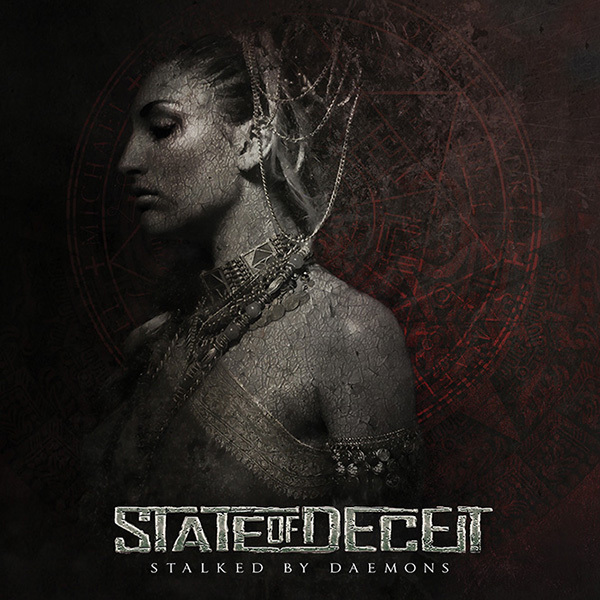 The new album by State of Deceit is entitled Stalked by Daemons. The riveting full-length release contains ten brutal songs, and it is scheduled for release on October 13, 2023. 

Stalked by Daemons delivers the best of all metalcore, thrash, and groove, often in stylistic antithesis that is startling and ultimately satisfying. The growl vocal is vicious just as the traditional, rich harmonies of the chorus work are heartfelt and bold. The intricate rhythm tracks are fascinating mosaics, always evolving in shape and colour, and the blistering lead guitar solos paint pictures that leave scars, the aesthetic kind, like treasured ink we pattern into the flesh.

State of Deceit is the epitome of rock at its core, at its roots. Metal artists are often social mysteries, but that is finally beside the point. Sometimes, they start social trends for the sake of leading the pack or demonstrating to us our own ironies, but in the end, all of that is just pomp and circumstance. Rock is about making tile. Rock is about the basement and the garage, and the idea that hard practice can make you a superstar. State of Deceit offers us a distinct, instrumental layering technique as the songs on Stalked by Daemons bring us into their process and into their world brick by brick! 

Stalked by Daemons artwork and layout by Pierre-Alain D. of 3mmi Design.
 
Pre-order / Pre-save Stalked by Daemons at https://ffm.to/sodsbd
 
For more information about State of Deceit and their "Stalked by Daemons, Guarded by Angels" music video, please visit them on Facebook, Twitter, Instagram, YouTube, or TikTok, and follow them on Spotify, Apple Music, Pandora, Amazon Music, Tidal, or Deezer!
State of Deceit lineup
Peter Scammell (lead vocals), Jonathan Russell (rhythm guitar), Gareth Jones (lead guitar), Davide Santini (bass & backing vocals), Matthew Toner (drums)