SOTO, the modern Heavy Metal / Hard Rock group featuring vocalist Jeff Scott Soto (ex Yngwie Malmsteen / Talisman / ex Journey, Sons Of Apollo, TSO, etc.), has now announced a first UK/European tour in support of the release of their recently released third album and InsideOutMusic debut "Origami".
Says frontman Jeff Scott Soto: "We hope this run along with the recent dates completed in South America are just a taste of what's to come for SOTO, we are hoping to add many regions around the world next!".
Here are the upcoming dates:
SOTO – European & UK Tour 2019:
02.09. Manchester (UK) – Rebellion
03.09. Newcastle (UK) – Cluny
04.09. Edinburgh (UK) – Bannermans
06.09. London (UK) – Underworld
07.09. Zoetermeer (The Netherlands) – Boerderij
08.09. Vosselaar (Belgium) – Biebob
11.09. Gothenburg (Sweden) – Sticky Fingers
12.09. Stockholm (Sweden) – Slaktkyrkan
13.09. Linkoping (Sweden) – Hell Yeah Rock Club
14.09. Copenhagen (Denmark) – High Voltage
17.09. Siegburg (Germany) – Kubana
19.09. Aarburg (Switzerland) – Musigburg
20.09. Milan (Italy) – Legend Club
21.09. Marseille (France) – Cherrydon
23.09. Barcelona (Spain) – Upload Club
24.09. Madrid (Spain) – Caracol
25.09. Valencia (Spain) – 16 Toneladas
26.09. Vitoria (Spain) – Urban Rock Concept
28.09. Athens (Greece) – The Crow Club
More touring activity to be announced soon…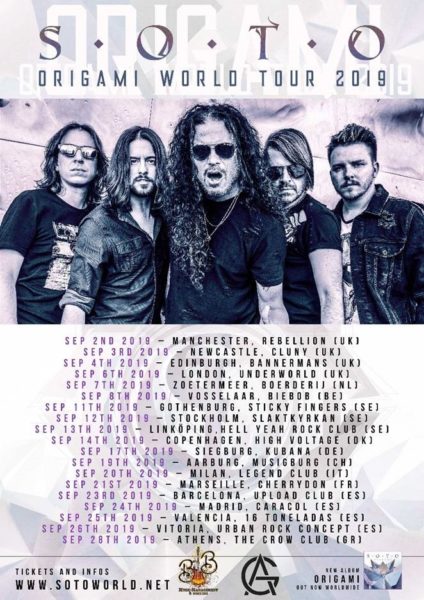 "Origami" was released as a limited digipak CD with a set of 3 stickers and a bonus track, 180g vinyl LP including the entire album on CD (Available either on black vinyl or in strictly limited coloured runs as follows: 200x Light Blue vinyl from CM Distro Europe & 100x Lilac vinyl from the band themselves!), and as digital download. The album comes packaged with classy artwork by Gustavo Sazes (Machine Head, Amaranthe, Arch Enemy).
Order the album here: https://soto.lnk.to/Origami
The full track-listing of 'Origami' is as follows:
SOTO – "Origami"
HyperMania (04:05)
Origami (05:08)
BeLie (04:06)
World Gone Colder (03:42)
Detonate (04:46)
Torn (04:39)
Dance With The Devil (04:26)
AfterGlow (04:48)
Vanity Lane (04:02)
Give In To Me (04:39)
11. KMAG (04:16) * Bonus Track
SOTO started in 2015 derived from the ideal of Jeff Scott Soto wanting to return to his heavier roots. So far they released 2 albums, "Inside The Vertigo" (2015) and "DIVAK" (2016), taking a short break while Jeff embarked on the supergroup Sons Of Apollo, alongside Mike Portnoy, Derek Sherinian, Billy Sheehan and Bumblefoot.
Now SOTO are returning under the same umbrella as Sons Of Apollo, having signed with InsideOutMusic. The new album "Origami" contains material that continues to expand and move the band towards new heights whilst following up with their brand of Power Rock.
SOTO online:
www.facebook.com/JeffScottSoto