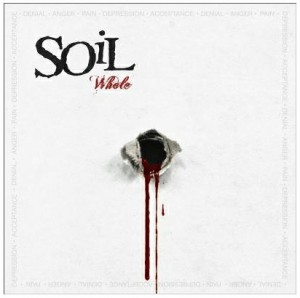 Whole is 2013's release by Chicago modern metallers Soil. The nicely-produced disc is well balanced, with the full band audible and appreciable.
A natural progression from (and successor to) 2001's Scars, the disc stays true to the band's downtuned, crunchy, catchy form.
I hear two cross-disc highlights: the emotive, powerful, growling vocal delivery from returning vocalist Ryan McCombs, and the fiery, flashy guitar solos from Adam Zadel.
Hard-hitting drums and heavy bass complement the sound. Lyrical themes are dark and brooding.
Overall, it's an accessible release that will delight Soil's fans, or fans of Mudvayne, Drowning Pool, Down, and Pantera.
Track Listing:
Loaded Gun
The Hate Song
Ugly
Way Gone
Psychopath
Shine On
Wake Up
Amalgamation
My Time
Little Liar
One Love
Band Lineup:
Ryan McCombs – vocals
Adam Zadel – guitar
Tim King – bass, backing vocals
Will Hunt (Black Label Society, Device) – drums (studio)