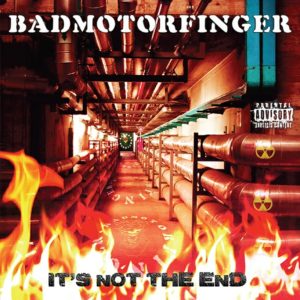 Badmotorfinger, an Italian hard rock band, released It's Not The End, a brazen 13-track disc.
It's straight-ahead, catchy, anthemic, guitar-driven hard rock. Modern, confident, and in-your-face music.
With no frills, keyboards, or 'studio effects', it's loud, crisp, flashy music for the guitar-friendly audience.
With gruff, gritty, lower-register vocals strongly reminiscent of Lemmy Kilmister; the band's apparently aware of this, covering Motorhead's "Rock 'N' Roll". Badmotorfinger's strength lies in their raw, even songwriting. Critique: they could benefit from some 'studio polish', or song variety. Across the whole album, the bass guitar part follows the rhythm guitar. Unfortunate choice of band name.
Track Listing:
Introduction
The Fear
Ghost
Ride The Storm
Loser
Nightmares
Brand New Day
No Second Chance
Afterlife
Beginning Of The End
Rebel
Inside Insanity
Rock 'n' Roll (Motorhead cover)
Band Lineup:
Il Reverendo – Vocals
Alex – Guitar
HeavyRico – Guitar
Tommy – Bass
Barra – Drums
Links:
Official Band Website
Official Band Facebook Page